Abu Dhabi's hotels report best half-year performance yet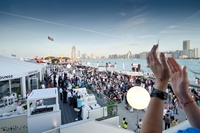 Figures from Abu Dhabi Tourism & Culture Authority (TCA Abu Dhabi) show Abu Dhabi's hotels and hotel apartments reporting their best half-year performance yet for hotel guests, guest nights and revenues.

From January to the end of June this year some 1,700,135 guests checked into the emirate's accommodation – a 28 per cent uplift on the same period in 2013. The arrivals delivered 5,147,392 guest nights, up 22 per cent, with occupancy climbing eight per cent year-on-year to reach 77 per cent. Hotel and room revenues both jumped 15 per cent to AED3.089 billion (£499 million) and AED1,578 billion (£255 million) respectively.

The UK is the destination's second largest overseas market, after India, with 98,710 Britons checking into Abu Dhabi in the first half of the year, up 26 per cent from 2013. British guests accounted for 423,737 nights, a rise of 17 per cent, and stayed an average of 4.29 nights. Germany was the third strongest international market.

This strong half-year performance was aided by a significant year-on-year uplift for June. The month saw guest arrivals rising 14 per cent to 264,203; guest nights climbing18 per cent to 771,997; average length-of-stay growing 4 per cent to 2.92 nights and occupancy increasing eight per cent to 70 per cent. Hotel revenues jumped 16 per cent to AED413 million (£245.4 million).

TCA says a number of factors have help deliver the half-year and June 2014 results, including a highly competitive average room rate which now stands at AED348 – or just £56.

"Our new Abu Dhabi Summer Season has seen the destination putting out compelling entertainment, hospitality and attraction packages across our entire tourism community." said HE Jasem Al Darmaki, Deputy Director General, TCA Abu Dhabi.

The results leave the destination well placed to attain its 2014 hotel guest target of 3.2 million check-ins "with a dynamic Q3 and Q4 to come," according to Al Darmaki.

"There are several high-profile events lined up including the Abu Dhabi Hunting & Equestrian Exhibition, ADIPEC, Abu Dhabi Art, the F1 Etihad Airways Abu Dhabi Grand Prix, the newly-signed ISAF Sailing World Cup, National Day celebrations and the Volvo Ocean Race Stopover. We are also progressing plans for some exciting new destination products which we hope to announce to the market soon."

"We are quietly confident of ending the year right on target and addressing key areas which we have identified as ripe for improvement, including expansion of length-of-stay, particularly in our Al Gharbia Western Region and Al Ain," explained Al Darmaki.