Abarth joins Swansway stable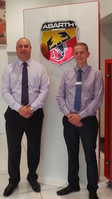 Luxury Italian brand, Abarth, is the latest to join the award winning Swansway Group stable.
The thoroughbred marque boasts a proud sporting heritage and now produces small, agile cars with mean engines and unique lines, all very distinctively Italian.
Swansway Group is a family owned and run business, based in the North West, and has been winner of the AM Best Retail Dealer Group of The Year for the last two years; sits 13th in the Great Places to Work survey and 32nd in in the Sunday Times Best Companies to Work for List.
Andrew Wakelin, operations director for Swansway Chester, said: "I'm something of a motor racing buff, so to have Abarth as a brand is rather special for me!
"The cars they produce are out of the ordinary and certainly have that little Italian something extra."
Abarth cars are known for their performance, which comes from their highly-tuned engines.
Bought by FIAT in 1971, the Abarth brand is distinguished from FIAT by special trim and model levels for performance versions of the Fiat 500, 500c and Punto.
The brand will sit alongside FIAT and Citroen at Swansway Chester.