Guernsey's Autumn Walking Weeks offer 46 guided walks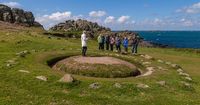 From 6th-21st September, Guernsey is offering 46 guided walks around the island as part of its annual Autumn Walking Weeks in association with Healthspan. The walks range from strolls through the capital, St. Peter Port, to themed historical walks, explorations of the leafy lanes in the heart of the island and rambles traversing the island. The walks cost £6 each and are led by Guernsey's top guides, each extremely knowledgeable in their area. Suitable for all ages and abilities, the walks range from an hour and half to six hours and are rated depending on the terrain and difficulty.
Examples of walks include:
St Peter Port Town Walk- an hour and a half, easy
The walk winds through Guernsey's historical capital St. Peter Port unravelling its diverse history. The guide will lead the group through the cobbled streets and along the waterfront telling tales of smuggling, privateering and the exile of Les Misérables author Victor Hugo, who lived on Guernsey for 15 years.
Guernsey fortifications- two hours, easy
The circular walk brings to life the German occupation during WWII, Napoleonic invasions and other elements of Guernsey's history spanning centuries. Highlights include German fortifications from bunkers to forts, a passage grave dating back to 3500 BC and Neolithic sites.
Ten Parishes in a day- six hours, medium
This full day walk offers visitors the chance to step foot in all ten of Guernsey's parishes from the dramatic south coast cliffs of St Martins, to the white sand beaches of Castel and the green valleys of St. Andrews which is the only parish to have no coastline.
Secret Life of Herm- two hours, medium
This walk takes visitors to Guernsey's sister island of Herm, which is a 20 minute ferry journey from St. Peter Port. Herm is just a few miles long and wide and has no cars making it an ideal walking island. The guide will take visitors to the south coast, which has incredible white sand beaches, frequently rated as the best in Britain.
North to south- six hours, challenging
This is an all-day walk from the north to the south of Guernsey exploring the island's rural side (there is a similar west to east walk). The route will follow the small country lanes and the Ruettes Tranquilles, a network of inner island lanes where priority is given to pedestrians, cyclists and horse riders. The walk covers ten miles in six hours.
Further details can be seen at: visitguernsey.com/autumn_walking_week and walks must be booked directly with the guides.