Experience Guernsey's gastronomy at Taste Guernsey this September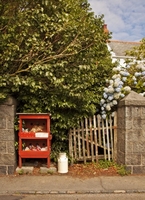 From 3rd-9th September the annual Taste Guernsey Festival will showcase the best of the Channel Island's unique local produce in a week of dedicated gastronomic events from pop ups to food themed walks and demos from top Chefs. Considering Guernsey's size at just 24 square miles, its on-island produce and fresh seafood are exceptional. Whether it's the tempting price of fresh oysters or the quirky 'hedge veg' honesty stalls, the island is bursting with a unique flavour and September is an ideal time with warm sea and air temperatures and a post peak season calm.

The highlight of the week is Seafront Sunday (7th September) where the harbour front in Guernsey's capital St. Peter Port is filled with market stalls and a pro stage with demos throughout the day and tastings of freshly prepared foods. Those looking to improve their culinary skills will enjoy the visiting Chef sessions (4th,5th,6th and 7th September) where inspiring Chefs and cooks from Chewton Glen head Chef, Luke Matthews to author and TV presenter James Strawbridge will showcase cooking techniques and styles using local produce. The festival will also see a skills centre (4th,5th and 7th September) with demos of difficult techniques from oyster shucking to filleting masterclasses.

For a closer look at Guernsey produce there will be a guided Hedgerow Hike (3rd September) which exploresthe produce of the country lanes; a guided tour of Randalls Brewery (3rd September) with explanations of how the equipment is used to turn malted barley, hops, water and yeast into famous local brews Breda and Patois; a look at Guernsey's flavoursome herbs with a tour of St. Sampson's vinery (9th September) and an insight into Guernsey's mushroom cultivation with a visit to the Guernsey Mushroom Growers (8th September). Tastings are available and tours range from £5- £7 per person. A special pop up kitchen (2nd/3rd September) will be in St. Peter Port over lunchtime where a pro Chef will give out samples of "Caoud Tchan' (Guernsey patois for hotdog) and other treats designed to whet the appetite for the main festival.

A three night break in Guernsey in September costs from £249 per person with Fly Guernsey including return flights from Southampton, three nights bed and breakfast at La Trelade Hotel, car hire and car parking at Southampton. For bookings, visit flyguernsey.com.
For further details and the full programme, visit tasteguernsey.com.