Vauxhall ADAM clocks up 100,000 orders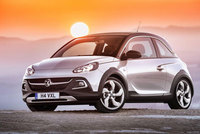 ADAM, Vauxhall's urban-chic city car, has racked up 100,000 European orders after just 18 months on sale.
With over a million different specification and trim combinations, ADAM introduced unprecedented levels of personalisation into the style-conscious A-segment. Every customer has the chance to create a truly bespoke ADAM reflecting their individual style and personality.
Key markets for ADAM have been the UK, Germany, Italy, France and the Netherlands.
The latest edition to the ADAM family, the ADAM ROCKS AIR is set to become the first urban mini three-door crossover when it goes on sale next month.
Debuting at this year's Geneva Motor Show, ROCKS AIR has its own body style offering the same contemporary design as the original ADAM but with the toughness of a crossover and the coolness of a full-length folding canvas roof.
Now available across the ADAM range is Vauxhall's all-new 1.0-litre ECOTEC Direct Injection Turbo three-cylinder engine. This high-tech unit raises the bar for three-cylinder engine refinement and packs 115PS, with impressive low-end torque of 170Nm.
"Thanks to its striking design and over a million different spec combinations, ADAM has been a big hit with our customers," said Tim Tozer, Vauxhall's Chairman and Managing Director. "And if that wasn't enough, Vauxhall is adding the robust ROCKS AIR to the ADAM range featuring an all-new 1.0-litre three-cylinder engine."