Sixth outing for Gibraltar's Charity Cardboard Boat Race - The best year yet?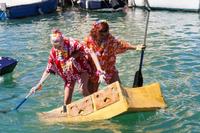 The sixth edition of Gibraltar's Charity Cardboard Boat Race took place in Ocean Village Marina on Saturday 23 August. Main organisers William Tilley Lodge RAOB, entrants and spectators all agreed it was a vintage year.

Emilia Hazell-Smith, Marketing Executive at Ocean Village, said, "The enthusiasm and effort on display this year was quite incredible, and a buzz was already building at the pre-event cardboard boat showcase in Casemates Square. With the mercury reading 28ºC as the boaters hit the water at midday, the crowds were out in force, and I suspect some of the oarsmen were quite pleased when their cardboard creations sunk so they could cool off a bit. HMS Harry was one of the first to escape the heat as it barely got out the blocks before sinking."
Emilia continues, "Weeks of hard work clearly went into several of the boats, with winners of the Junior Race, The Black Pearl, also claiming Best Junior Boat Design for their unbelievable pirate ship construction and costumes. Meanwhile Saxomania, although only managing second in the Adult Race, won Best Adult Boat Design for their lifelike HMS Victory complete with papier-mâché Admiral Nelson who was given his own medal. O'Reilly's won the adult race for the fifth consecutive year, and I am sure that fellow cardboard-constructors will be keen to learn the secret to success."
Second Princess of Miss Gibraltar 2014, Claire Nuñez, was on hand to give out prizes, shields and medals, to include Best Adult Fancy Dress for JP Haulage's Mario Cart and the Junior accolade for the 3rd Europa Scouts. Best Titanic Sinking went to Mean Machine 2. Aside from hosts Ocean Village Marina, event sponsors came in the shape of The Ivy Sports Bar, JP Haulage and The Bridge Bar & Grill. There was also an array of prizes kindly donated by Sunborn's Sky Restaurant, Dusk Nightclub & Cocktail Terrace, Casino Admiral, Shanghai Gardens, SUP specialists In2Adventures, The Bridge Bar & Grill, Pizza Express, The Cuban, The Island Restaurant and O'Reilly's Irish Pub.
Emilia finishes, "Boating aside, House of Bounce set up a bouncy castle for the youngsters near Café Fresco and local sports recreation company, In2Adventures, led free Stand Up Paddle taster sessions. A couple of participants also decided to take the opportunity to jump on the ALS Ice Bucket Challenge charity bandwagon with Claire Nuñez generously offering to do the dousing. I'm sure we'll be talking about Saturday's events for a long time to come – a truly great day."
All proceeds went to the GBC Open Day and Prostate Cancer Support Group.
Keep an eye on the Ocean Village FaceBook page for up to date information on events at Gibraltar's foremost marina.