Defender Challenge Round 5 rallies into Ludlow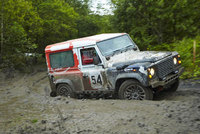 Round 5 of the Defender Challenge by Bowler series takes place this weekend as part of the Woodpecker Rally in Shropshire.
Motorsport fans will see six teams compete for top honours, as the inaugural Defender Challenge by Bowler rally series will form an integral part of the Woodpecker Stages event for the first time.
Teams will be based at Ludlow Racecourse, where scrutineering will take place as well as the official start and finish of the race and awards presentations activity. The all gravel rally course will test the teams and their Bowler-prepared Land Rover Defender 90 vehicles across 43 stage miles and some of the best forest stages in the country.
Heading into Round 5, father and son team Rob and Jonny Harford lead the Championship by just one point from Edd Cobley, who recorded his third victory of the season in the previous round at the Welsh Hill Rally.
Edd Cobley said: "With just three stages to go, it's exciting to be in contention for the Championship. It's been a fantastic debut series for the Defender Challenge and with a great sense of camaraderie between all the drivers; we're looking forward to another race weekend.
"Weather conditions made the previous round in Wales incredibly tough, but the Defender handled everything that was thrown its way and we were delighted to top the podium. I'm expecting another tough test at the Woodpecker Stages, but come rain or shine we will be ready to race and looking to top the podium again."
Race2Recovery also head to Shropshire in good spirits as they push for a fourth consecutive podium finish. The team is comprised of a number of people with disabilities and received backing from long-term partner Land Rover to enable them to compete in the series.
Race2Recovery team member Ben Gott said: "We are continuing to grow as a team and are learning a lot from taking part in our first race series. It's great to see co-driver Stephanie Boddez gaining more experience and confidence with every round. We're looking forward to the challenge of securing another podium finish in Ludlow, and the final stages of the Defender Challenge."
2014 is the inaugural year of the Defender Challenge by Bowler race series, which features seven rounds, held across the UK. The series has been created to offer competitors a clear pathway to progress to further international rally raid competition such as the Africa Race and Dakar Rally.
Drew Bowler, Managing Director of Bowler Motorsport will make his rally debut when competing in this weekend's stage.
He said: "With just three rounds to go, the Defender Challenge by Bowler series is really hotting up. The first four rounds have provided some great rallying and we looking forward to seeing six teams tackle the testing all-gravel course in Ludlow."
People wishing to find out more information about the Defender Challenge by Bowler should visit bowlermotorsport.com.