Walk up an appetite on two new Italian treks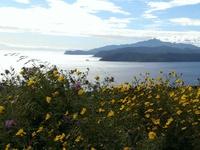 Hedonistic Hiking has already created the perfect recipe for an idyllic, food-lovers' holiday - a healthy and fun itinerary of walking through wonderful scenery, a generous helping of local seasonal produce, and of course an ample splash of wine to wash it all down.
The 2015 season offers two new tours for guests' delectation and delight, taking in some of the most beautiful regions of Italy. With fabulous food and a breath-taking backdrop guaranteed, let Hedonistic Hiking be your gastronomic guide through picturesque Tuscan towns, beautiful Basilicata . . . and everything in between.

La Dolce Vita has never seemed so appealing!
Lucca, Volterra and the Island of Elba
This new tour is a tantalising trail through Tuscany, starting in the historic city of Lucca. A beautifully preserved city, encircled by its Renaissance walls, Lucca is situated just south of the marble mountains of Carrara, and is a fabulous introduction to the region of Tuscany.
Volterra, a hilltop gem with rich Roman and Etruscan history is the next stop, and offers some rewarding hiking to San Gimignano, with its imposing medieval towers dominating the skyline.
En route to the Island of Elba, the tour stops in Bolgheri, one of the most exciting and innovative wine regions in Italy. There is plenty of time to sample the local merchandise, before moving on to Elba. Noted for its famed exile Napoleon Bonaparte, Elba is the largest island of the Tuscan Archipelago, and is part of the Arcipelago Toscano National Park. From craggy peaks to bustling tourist towns and vast expanses of beach, guests will be spoiled by all that magical Elba has to offer.
The tour starts and ends in Pisa, Tuscany but many people choose to extend their walking holiday in Italy by visiting Florence, Siena, Parma, Rome or the Cinque Terre.
8 nights accommodation in 3 different hotels, including all meals and wine costs £2,265. Single supplement is £25.
Basilicata: The land where time stood still
Another addition to 2015's fiesta of tours is the Basilicata trail. Largely undiscovered by tourists, Basilicata remains untouched by the hand of modernity – so much so that it seems as though time stands still.
Beginning in the scenic town of Maratea on the west coast, the tour heads inland to the magnificent Pollino National Park, where a secluded mountain refuge at 1350m will become home for 3 nights. Unrivalled scenery and nothing but nature will make for a truly unforgettable experience, before the tour makes its final stop in the city of Matera.
A Unesco World Heritage site, Matera offers unique accommodation in the form of an "Albergo Diffuso" – or a "scattered hotel" – with rooms sympathetically converted from the town's original cave dwellings. Each room boasts quirky individual features in a fabulous setting, which is bolstered by a fascinating walk through this unique and compelling historic city and its surrounding countryside.
This tour starts and finishes in Naples, but guests might choose to extend their walking holiday in Italy by seeing more of Naples, or visiting Florence, Rome or Pompei and the Amalfi coast.
8 nights accommodation in 3 different hotels, including all meals and wine costs £2,245. Single supplement is €225.
For a full range of itineraries visit hedonistichiking.com.