The all-new Renault Twingo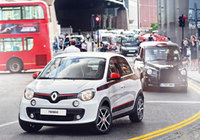 The third-generation Renault Twingo may have a familiar name and the same pert and fun-to-drive qualities of its predecessors, but links with the past stop there. In every other respect it's all-new and radically different, introducing a number of firsts for the model – a rear-mounted engine, rear-wheel drive and five doors.
In spirit and character it echoes the much-loved original Twingo of 1993 and the Renault 5 before that, but with its new layout and more practical body style it is very much a car for 21st-century cities – compact, nimble, efficient, safe and fully connected to the outside world.
The two new engines on offer bring substantial improvements in fuel economy and emissions compared with the previous model, culminating in the 67.3 mpg and 95 g/km of CO2 for the 1.0-litre Dynamique SCe 70 model with Stop & Start. This means the car can travel 14 miles further on every gallon of fuel while emitting 35 g/km less CO2.
The All-New Twingo is a clean-sheet-of-paper car which takes into account all the joys and stresses of living and driving in the cities it was primarily designed for. It is shorter and easier to park than its predecessor, more agile and greater fun to drive, more manoeuvrable with better all-round visibility, and simpler to get in and out of. And it exhibits substantial improvements in quality.
"The All-New Twingo rounds off the renewal of Renault's small-car range. As a means to win over new customers, the stakes for the brand are as high as they were for the model's predecessors. Putting the engine at the back is an ingenious concept, just as the original Twingo was. It is still small on the outside and big on the inside, but it now comes with a choice of two connected systems that ease driving in built-up areas, on top of its peerless manoeuvrability and agility."
Ali Kassaï, Vice President, Small Car Programmes
The advantages of a rear engine
By mounting the engine at the rear, cars can be made shorter, which in turn means they fit into smaller parking spaces and are more nimble when nipping through traffic. The potential downside is that a rear-mounted engine can steal boot space, while people brought up on front-wheel-drive cars might worry about the handling implications and the consequences of being hit from behind.
Renault's engineers and designers have overcome these obstacles ingeniously. The engine is mounted at an angle of 49 degrees so that it does not intrude into the boot, and in a rear-end collision it is pushed beneath the passenger cell. Fifty per cent of the engine parts have been redesigned so that the power unit takes up 15 cm less space than if it had been mounted vertically. Meanwhile, Electronic Stability Control overcomes any possibility of a rear-wheel skid in slippery conditions.
The All-New Twingo's compact overall length and short overhangs endow it with a best-in-class turning circle of only 8.59 metres, aided by front wheels which turn 45 degrees. This outstanding agility makes the All-New Twingo much easier than the majority of cars to manoeuvre into kerbside parking spaces or end-on parking bays. The range-topping Dynamique TCe 90 model also has Variable Gear Ratio steering requiring one-half turn less of the steering wheel compared to the SCe 70.
With its new layout, the third-generation Twingo is 10 cm shorter than its predecessor at 3.59 metres long, but has a 12 cm longer wheelbase (2.49 metres) and 33 cm more room in the four-seat cabin.
The capacity of the boot is 188 litres, but the rear seat-backs can be set in a 'cargo' position at 90° which increases the boot volume to 219 litres, while still safely carrying 2 passengers in the back. With the 50:50 split-folding rear seats lowered, the boot volume is increased to 980 litres. All versions feature a folding front passenger seat as standard – a unique offering in Twingo's class. With the front seat lowered the All-New Twingo's cabin is long enough to allow a flat-pack Swedish book case or a double bass to be carried. There is also 52 litres of personal storage space within the cabin.
In 2008, Renault's engineers and designers started from a clean sheet of paper as they set out to create the next-generation Twingo. It was a challenging mission but they set their sights high, in keeping with the philosophy behind the iconic original which symbolised both Renault's spirit of creativity and its ability to come up with game-changing concepts. Despite the newcomer's smaller footprint, the aim was to produce an even roomier and more agile city car than the current Twingo, and this is how the idea of switching to a rear-mounted engine took form.
Renault's thoughts found an echo in those of Daimler which was also in the process of exploring ideas for the next-generation two- and four-seat versions of the Smart. In April 2010, a strategic cooperation agreement was signed by the two firms, marking the official green light for a joint development programme which promised a wealth of synergies.
Ultra-efficient engines
In keeping with the downsizing of the new Twingo, Renault has taken the opportunity to downsize the engines with a range of ultra-efficient three-cylinder 12-valve units. An all-new naturally aspirated SCe 70 1.0-litre Renault engine powers all but one model in the line-up. This delivers 70 hp at 6,000 rpm and 91 Nm of torque at 2,850 rpm, giving 0-62 mph acceleration in 14.5 seconds with a top speed of 94 mph. In the Dynamique SCe 70 with Stop & Start model, official fuel economy is 67.3 mpg, with CO2 emissions of 95 g/km. The Expression and Play SCe 70 versions, without Stop & Start, are capable of 62.8 mpg, while CO2 emissions are 105 g/km.
Renault also offers a Dynamique TCe 90 version at the top of the range, powered by a 0.9-litre turbocharged engine developing 90 hp at 5,500 rpm and 135 Nm of torque at 2,500 rpm – sufficient for 0-62 mph acceleration in 10.8 seconds and a top speed of 103 mph. Yet with Stop & Start as standard, this engine is also extremely efficient, recording an official 65.7 mpg, with CO2 emissions of just 99 g/km. Significantly, all three engines are capable of exceeding 50 mpg in city use.
All versions of the All-New Twingo have MacPherson struts at the front and a De Dion torsion beam rear axle, giving balanced handling without the necessity to make the car overly stiff. The All-New Twingo therefore delivers alert handling with a compliant, comfortable ride.
A rich heritage of small cars
The All-New Twingo maintains Renault's illustrious record for creating outstanding small cars. Its design embodies the 'play' petal of the company's 'flower of life' design strategy and incorporates aspects of the 2013 Twin'Run and Twin'Z concept cars.
The expressive front end reflects the playful, fun-to-drive character of the car and features Renault's familiar design cues, including a bold version of the company logo set into a black background. The creased bonnet folds over headlights topped by indicators which resemble eyelids, the round daytime running lights are in the form of four luminous points and there is a broad lower air intake emphasising the car's stance. At the rear, wide shoulders stretching from the sides are a throwback to those on the Renault 5 Turbo. Disguised rear door handles lend the car a two door appearance.
The interior is characterised by a commanding driving position offering outstanding all-round visibility and a sporty cowling and steering wheel in an uncluttered dash design. The standard interior colour scheme is Java Grey upholstery with white dashboard embellishments, but Java Blue and Java Red finishes are also available, depending on model and exterior body colour, and there is the option of a Sport Pack for the Dynamique TCe 90. They are just part of a wide range of personalisation options and packages.
Connectivity is standard in the car through the new smartphone-operated R & GO®system. Thanks to the radio, a universal cradle and a clever, free-to-download app, owners benefit from intuitive access to a variety of navigation, telephone, multimedia and trip computer functions. The navigation is provided by CoPilot and the maps are downloaded onto the smartphone, meaning that the driver does not use up their data allowance whilst driving.
The Dynamique version offers the option of the tablet-style R-Link multimedia system with a seven-inch touch-screen, voice control, DAB radio, TomTom®navigation, Bluetooth®and 3D sound by Arkamys as well as including a rear parking camera.
All versions of All-New Twingo come with body-coloured bumpers, door handles and exterior door mirror shells, a rear spoiler and LED daytime running lights. Comfort and convenience are provided with electric power steering, electric front windows, remote central locking, a speed limiter, a height-adjustable steering wheel, a trip computer and gearchange indicator, a lane-change function for the indicators and the automatic activation of the rear screen wiper when reverse gear is selected.
Practicality is ensured by the unique-in-segment folding front passenger seat and a split-folding two-seat rear bench as well as numerous cabin storage areas, three cupholders and a boot light. The safety equipment includes Electronic Stability Control, Hill Start Assist, Emergency Brake Assist and four airbags as well as front and rear headrests and a Tyre Pressure Monitoring System.
The Play version adds to that core equipment with air conditioning, a height-adjustable driver's seat and steering wheel, and 15-inch black two-tone wheel trims in place of the grey ones with Expression.
Dynamique versions add 15-inch alloy wheels, pinstripe shoulder-line decals, front foglamps, electric heated door mirrors, cruise control, a lane departure warning system, a leather-trimmed steering wheel and gearshift knob, white instrument backlighting, a folding key and storage pockets in the rear doors.
Dynamique versions also benefit from Stop & Start engines that cut emissions and improve fuel economy. The Dynamique TCe 90 is fitted with Variable Gear Ratio power-assisted steering, making the vehicle more agile and reactive at lower speeds.
Key options, depending on model, are an electric fabric panoramic sunroof, rear parking sensors, a premium sound system and the Seat, Techno, Convenience, Sport and Personality packs which offer themed items of extra equipment at lower prices than if bought individually.
As with all new Renaults, All-New Twingo is covered by a four-year warranty which offers unlimited-mileage cover in the first two years and then two further years of protection up to 100,000 miles. Four years roadside assistance cover is provided. And, when bought on Renault Selections Finance, four years (or 48,000 miles) servicing is also included. Alternatively, a four year servicing package can be purchased separately.
Servicing is required only once a year or every 12,500 miles. The timing chain is maintenance-free which helps to reduce servicing costs.