Rail trails initiative encourages visitors to sit back the enjoy the Welsh scenery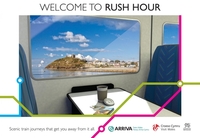 Visitors to Mid and North Wales are being encouraged to park their car and take the train in a new sustainable transport and tourism initiative.
Focused on three of Wales' most scenic railways - Conwy Valley Line, Cambrian Lines and Heart of Wales Line – the Show Me Wales Rail Trails project aims to make it easier for visitors to identify accessible things to do and places to visit and stay in towns and villages along the lines that do not require a car.
A bilingual, business card sized pocket guide has been produced showing a map of the rail routes and connections together with information about Glyndwr's Castles, Cardigan Bay beaches, cycling and mountain bike routes, Glyndwr's Way walking trail, charming market towns, Britain's smallest town, Llanwrtyd Wells and Devil's Bridge and the Vale of Rheidol Railway.
There's also a website - showmewales.co.uk/railtrails - where visitors can download a range of rail itineraries and postcards, on which visitors can write to their family and friends about their wonderful experiences on Wales' scenic railways.
The free postcards are available at railway stations and at places to stay along the railways. Posters will also be displayed at railway stations outside Wales promoting Show Me Wales Rail Trails.
The three railways cover from Conwy in the north to Swansea in the south and from Shrewsbury in the east to Aberystwyth on the Cardigan Bay Coast.
The project has been led by MWT, an independent organisation that represents around 600 tourism and hospitality businesses across Powys, Ceredigion and Meirionnydd. Funding partners are Visit Wales, Cambrian Rail Partnership and the Tourism Partnership Mid Wales.
"The scenic rail routes of Wales provide stunning views, comfortable seats and excellent value – so why not let us do the driving?" is the Rail Trails message.
The project shows that the railways can help passengers enjoy the beautiful Welsh coastline, mountains, castles and countryside with a vast array of fascinating places, attractions and events to explore.
'The project highlights links to bus routes and heritage railways to help visitors reach their chosen destinations without the need for a car'
Hotels, guest houses, bed and breakfast business and tourism attractions along the three scenic railway routes are being encouraged to take advantage of the Rail Trails promotion by offering discounts to visitors who arrive by train.
MWT has now secured funding to take the project a step further by developing a Show Me Wales Trails app with itineraries of things to do and places to visit for visitors. The project has been part-funded by the European Regional Development Fund through the Welsh Government.
Included in the app are 14 individual trails, including the Wales Coastal Path, Offa's Dyke path, Glyndwr's Way and cycle trails, showing hub points along each route. The app, which is nearing completion, will show places of interests and things to do.
Both projects aim to build on a tourism marketing initiative launched by MWT and the Cambrian Railways Partnership back in 2010, which was designed to attract more short break visitors to the region by train. Train passengers were offered discounted accommodation in Mid Wales from participating businesses.
Heart of Wales Line travels 121 miles through the centre of Wales to the South Wales coast between Shrewsbury and Swansea, while Conwy Valley Line runs for 27 miles from the North Wales coast at Llandudno Junction to the heart of spectacular Snowdonia at Blaenau Ffestiniog.
There are two sections to the Cambrian Railways, the main line running from the Welsh border at Shrewsbury to the Mid Wales seaside resort of Aberystwyth, while the Coast Line travels from Machynlleth to Pwllheli along the beautiful Cardigan Bay.
"Our main objective is to encourage more people to visit Wales by train, which will allow them to sit back and enjoy our fantastic scenery," said Val Hawkins, MWT's chief executive. "Our project aims to enhance the visitor experience while they are in Wales."