Mazda extends roadside assistance to older cars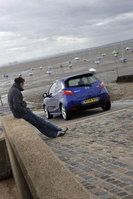 More than 325,000 owners of Mazda cars that are out of their initial warranty period will be able to take advantage of a new roadside assistance scheme launched by Mazda UK in partnership with Allianz Global Assistance.
The scheme covers Mazda cars that are between three and 10 years old and up to 100,000 miles and reflects demand from buyers of used Mazdas who want the same level of roadside assistance that owners of new Mazda cars get, explained Mazda UK Aftersales Director David Wilson-Green.
Priced at £89, which is less than similar schemes offered by other breakdown companies, the scheme can be bought from Mazda's dealer network. It includes vehicle recovery to a Mazda authorised repair centre in the event of an accident or breakdown, puncture assistance, as well as helping drivers who have run out of fuel and even those that have lost their keys.
"We have seen increased demand for the continuation of the Roadside Assistance Package service we provide new car customers for the first three years of the vehicle life so by adding this service to our suite, our customers have a full range of aftersales products and services that meet their needs," said Wilson-Green.
"We have been working with Allianz Global Assistance for a long time now and are confident that together we continue to deliver best in class services."