Henley on Thames colourful autumn collection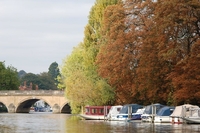 When the Chiltern beech woods around Henley on Thames blaze with colour as their leaves turn to red, deep brown and gold it signifies autumn's arrival. Here are ways to experience this colourful time of year when visiting the charming Thameside market town.
Take a hike: Walk the three miles along the Thames Path from Marsh Lock to Hambleden Lock, passing historic Henley Bridge and the famous rowing Regatta course surrounded by vivid colours in the wooded hillsides.
Get on your bike: Head out from Henley on a 14 mile circular route taking in the Chilterns landscape and attractions of Sonning Common, Stoke Row and Greys Court. For something more adventurous try the 18 mile Henley and the Chilterns cycle loop, a hilly route which involves steep climbs.
Channel some hot air: Capture the vivid colours of Henley's surrounding beech woods from a unique perspective – above – in a hot air balloon. A feeling of freedom accompanies the views during this one-hour airborne adventure, with champagne on landing.
Henley Show: Saturday 13 September 2014
Now in its 123rd year and described as 'the best one-day Agricultural Show in the country', attractions include cattle, sheep and poultry, show-jumping and showing classes. Entertainment includes active displays with steam engines, birds of prey, foraging and live music. Crowd favourites include the Dancing Sheep Show, handmade replicas of royal carriages and interactive food and farming marquee activities helping children to learn where their food comes from.
Henley Literary Festival: 29 September – 05 October 2014
Recently named as one of the top five literary festivals in the country, Henley attracts high profile authors to this beautiful riverside town, creating a much anticipated date in the cultural calendar and a reputation to rival those of Hay, Edinburgh and Cheltenham. Over seven days, with 150 talks, interviews and performances taking place across 7 locations in the town, the intimacy of the events gives it a distinctive personality, creating a buzz about topics including politics, current affairs, fiction, history, food and sport.
Henley Children's Literary Festival: 29 September – 05 October 2014
The River and Rowing Museum hosts this distinct part of the Henley Literary Festival, with a programme of 26 events for pre-schoolers upwards, including storytelling, singing, drawing, and much-loved characters. From naughty pets to a prince's potty, bear hunts to horrible science, the line-up seeks to fire the imaginations of all ages through singing and storytelling, drawing and writing workshops.
Henley Ploughing Match & Country Market: Sunday 05 October 2014
Bishopsland at Dunsden hosts a great day out with ploughing classes for vintage, classic vintage tractors and track vehicles and classes for heavy horses - high cut and ordinary. Entertainment includes terrier racing, a log chopping competition, Shire horse display, ferret racing, trailer rides, outside trade stands, and craft stands. The "Blessing of the Plough" takes place at 9.15, and ploughing starts at 9.30 with refreshments and a licenced bar available all day.
Autumn Sunshine Rum Tasting: Thursday 09 October 2014
Sample some amazing rums and get to know how the different styles of barrel ageing affect the final delicious tipple. Travel on a whistle stop journey through the world of rum, including the history of production and the many traditional methods which have survived today. The event at Hotel du Vin costs £30 per person including five fantastic rums and light bites.
Henley half marathon: Sunday 12 October 2014
Each year sees 2,500 participating runners following a beautiful and scenic route draped in overhanging autumn trees, through Henley, over the famous bridge, and along the Thames valley before returning over the river and up the hill at Fawley towards the finish line.
Brakspear Jazz & Blues Festival: 07 – 16 November 2014
Local Henley brewer Brakspear aims to banish winter blues with fantastic music every evening in one or more of its pubs in and around Henley. There is no better place to listen to jazz or blues than the intimate environment of the pub, enjoying a pint of beer or a glass of wine and the company of friends and fellow music fans. Brakspear is brewing 'Top Notch', a special ale for the event and making a charitable donation from each sale to a Henley music project.
Hobbs of Henley – Special River cruises
Sunday Jazz Lunch Cruise – Sunday 28 September
Join Joe Henwood, a young saxophonist from the UK for a lunch cruise aboard 'The New Orleans' from 12.30pm-3.30pm. The cruise includes a welcome drink and two course hot buffet for £40 pp.
New for 2014 - Fawlty Towers Dinner Cruise – Saturday 25 October
Combine fine food and classic comedy action as Basil, Sybil and Manuel provide hospitality in typical 'Fawlty' style promising large portions of chaos and mayhem aboard 'The New Orleans'. Tickets cost £45pp including a welcome drink and buffet.
Home Front Henley exhibition: 06 Sept – 04 January 2015
This River & Rowing Museum exhibition looks at the impact of the First World War on the people of Henley on Thames. It covers the stories of the local men who left to fight and the contribution the town made to support them at home. It shows how the town was involved with the war effort as a Red Cross hospital was set up, troops billeted there for training and local land turned over to agriculture. It will also look at the impact on the lives of ordinary residents. How badly affected by rationing were they? What happened to the men who could not, or would not fight? How did the war change the lives of women?
For more details about what's on in Henley this Autumn/Winter, visit henleytowncouncil.gov.uk/Visiting.aspx