Improve your well-being at a wilderness ranch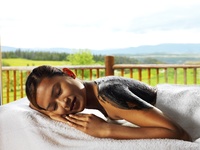 In a technology obsessed world many of us are choosing to escape on our travels and get back in touch with nature. Various studies suggest this could be a positive choice, time spent in wilderness settings promoting a sense of inner calm, our mental, psychological and spiritual well-being receiving a boost. Located in remote corners of North America, luxury guest and resort ranches are ideal for travellers who have a digital detox on their wish list, many of them complete with full service spas.
Wyoming's Brush Creek Ranch & Spa is the ideal place to enjoy a body, mind and soul work out, the list of healthy options including, riding, yoga, a high ropes course and even Native American spa treatments. The ranch's string of sure-footed quarter horses take guests across creeks and into the upper reaches of the Cowboy state's back country, the property situated on 15,000 acres in the North Platte River Valley. Yoga classes are held at Falcon Peak Overlook, the expansive deck towering over the wilderness, and guests can experience an Indian healing ritual in their own private teepee, calming mists of lavender and sage stick smoke reconnecting them to the energy of the earth. For the more adventurous a high ropes course is available. Suspended some 30-feet off the ground, the challenge includes swinging bridges and three zip lines totaling almost 500 feet. A ranch where you can take your health to the next level guests can also hire a personal trainer for a one-on-one fitness session. Six nights with Ranch Rider from £2,865pp (two sharing) including accommodation, meals, most ranch activities (including riding, geo-caching, mountain biking and zip-lining), premium drinks and beverages (including alcohol), taxes and gratuities. Excludes spa treatments, personal trainer sessions, car hire from £243 and return flight from £859pp. Seasonal departures May 24th - Oct 5th.
British Columbia's Echo Valley Ranch & Spa is based in Canada's Cariboo wilderness, the surrounding landscape composed of mountains, plateaux, canyons and desert. The Baan Thai Spa brings health and wellness philiosophies from the east to the west - over 2,000 years of healing handed down by native Thai therapists. Horseback rides range from one to five hours, and there is hiking for the casual walker and more adventurous explorer. A holiday which is focused on a holistic approach to health, the ranch offers locally sourced, organic gourmet cuisine, its homegrown menu known as the "100-metre diet." Six nights with Ranch Rider from £1,299 (two sharing) including accommodation, meals, most ranch activities (half a day of riding each day, unlimited fly fishing, nature hikes and more), taxes and gratuities. Excludes car hire from £289 and return flight from £859pp. Year round departures.
For more information, visit ranchrider.com.