Hummer goes global with new H3 model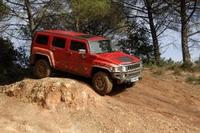 The HUMMER brand goes global with the introduction of the HUMMER H3.
Developed for markets around the world and built in South Africa, the H3 adds unique styling features to the marque's iconic shape, an all-new interior design and a 3.7-litre engine with, for the first time on a HUMMER, a choice of manual or automatic transmissions for the full-time four-wheel drive system. A right-hand drive version will be available summer 2007.
In the beginning HUMMER was a vehicle in a class of its own, with extreme style and capability, unmatched and untouched by the competition. The latest chapter in the story is the HUMMER H3, designed in response to demand from global markets for a luxurious everyday driving vehicle, offering the legendary HUMMER performance.
H3 packs authentic HUMMER style and capability into more compact dimensions. Compared to the HUMMER H2, the H3 is 39 mm shorter, 171 mm lower and 73 mm narrower. Roughly the same length as a larger family saloon, H3 can navigate city traffic, yet still deliver HUMMER's trademark crawling and climbing capability off-road.
The 4,782 mm long HUMMER H3 is powered by General Motors's Vortec 3.7-litre, inline five-cylinder engine with dual overhead camshafts and variable valve timing. Specifically designed for this type of vehicle, it delivers 244 hp (180 kW) at 5600 rpm and 328 Nm of torque at 4600 rpm.
H3 is the first HUMMER ever to offer the choice of a manual or an automatic transmission. In addition to the Hydra-Matic 4L60 electronically controlled four-speed automatic transmission, a smooth-shifting five-speed manual transmission is available, the first-ever for HUMMER, offering ultimate driver control.
At the heart of the HUMMER H3's capability is its electronically controlled four-wheel drive system. The system is augmented with traction control, an optional locking rear differential and StabiliTrak stability control, which is offered as standard. The H3 can ford 407 mm deep water at 20 mph or 610 mm deep streams at a 5 mph pace, and climb 407 mm vertical steps or rocks.
This off-road performance is also aided by the "wheel at each corner" design giving a maximum approach angle of 37.5 degrees and maximum departure angle of 34.6 degrees. These approach and departure angles permit the H3 to drive into a hole and back out again, without getting hung up at the front or the rear.
The H3's more compact size provides manoeuvrability advantages, such as a
11.3 m turning circle, making equally easy work of parking manoeuvres or tight turns when off-roading. A 216 mm ground clearance and maximum breakover angle of 23.5 degrees make it possible to clear large obstacles in off-road driving.
Until recently, HUMMER had primarily focused its attention on establishing a strong presence in North America. GM acquired the brand in late 1999 and since then HUMMER sales have grown from around 1,000 vehicles per year in 2000 to more than 60,000 in 2005.
The H3 made its debut in North America in May 2005 and has helped make HUMMER the fastest growing automotive brand in the United States. The H3 has made the brand more accessible with its smaller, more efficient package, while still retaining the characteristics that make a HUMMER unique: iconic design and unparalleled off-road performance.
In addition to growth in the United States, HUMMER has shown significant expansion around the globe. In Europe, where Kroymans Corporation has the exclusive rights to import and distribute HUMMER vehicles in 27 European countries, sales have more than doubled since 2005. The H3 is a specific response to this rising customer demand. In the first 11 months of 2006,
1,712 HUMMERS were sold, compared to 548 vehicles in 2005.
While all previous HUMMER H3s have been assembled in GM's North American facility in Shreveport, Louisiana, the new international H3, intended for all markets outside of North America, is being assembled at the Struandale Assembly Facility in Port Elizabeth, South Africa. The $100 million investment in the plant has been described as one of the most important milestones in the history of GM in South Africa.