Hummer at the British International Motor Show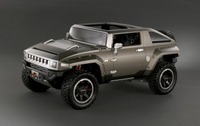 HUMMER will showcase the HX Concept, a nimble, reconfigurable off-road concept vehicle, at the British International Motor Show. Joining the HX will be the current UK offerings the HUMMER H3 and H2.
HX Concept provides vision of a FlexFuel, open-air HUMMER
Convertible body with removable roof panels, modular rear roof assembly, easily removable fender flares and doors
Full-time 4WD with front and rear locking differentials
Aeronautically inspired interior with functional, lightweight design elements
3.6L direct-injected V-6 E85 FlexFuel engine with six-speed automatic transmission
With unmistakable HUMMER design cues and a compact, go-anywhere attitude, the HX is an entry-level, open-air vehicle that packs the off-road acumen for which HUMMER has become legendary into an easily convertible body.
"The HX is HUMMER's vision of an agile, trail-ready, open-air vehicle that fits the lifestyles of everyone who needs or wants to drive off road," said Martin Walsh, HUMMER general manager. "Of course, it carries exceptional off-road capability and the distinctive styling for which all HUMMERs are known."
An open-air driving experience is made possible by a pair of removable roof panels above the driver and front passenger, and a modular, removable rear roof assembly. With all the roof panels removed, the HX is transformed into a true convertible. It can also be configured into an SUT, a stylish slant-back or a traditional, wagon-like design that offers a bit more cargo space. Doors and fender flares can also be quickly removed for additional fun and trail/rock clearance while off-road driving.
More compact than a HUMMER H3, the HX is 2,057 mm wide, with a 2,616-mm wheelbase. These compact dimensions, almost no overhangs and grippy 35-inch tires prepare the HX for driving on most any terrain. Like HUMMER production models, the HX has sturdy, body-on-frame construction, onto which is mounted front and rear independent suspensions. A full-time 4WD system can pull the HX over, through and around off-road obstacles. It transfers torque to the front and rear axles, each of which is equipped with a locking differential.
HUMMER H3
The HUMMER H3 which is currently on sale in the UK in right hand drive builds on the remarkable abilities and image of the HUMMER H1 and H2, the mid-sized H3 is the most accessible production HUMMER ever. The H3 was designed in response to global demand for a luxurious, everyday vehicle that offered the legendary HUMMER design and unparalleled off-road performance in a more useable and urban-friendly form.
Consequently H3 packs authentic HUMMER style and capability into more compact dimensions. Shorter, lower and narrower than the H2, the 2008 H3 is a similar length to a large family saloon and can comfortably navigate dense city traffic, yet still deliver HUMMER's trademark all-terrain crawling and climbing capability out of town.
In the UK the 2008 HUMMER H3 is available as a three model range of right-hand drive vehicles, each with a choice of manual or automatic transmission. The H3 SE is priced from £26,495 (on-the-road), the H3 Luxury from £31,495 and the H3 Adventure from £30,495.
HUMMER H2
The larger H2 which is on sale in the UK in left hand drive has undergone numerous changes in 2008. These changes deliver a more luxurious, comfortable and refined interior, while retaining HUMMER's legendary off-road abilities and ruggedness. An all-new powertrain combines a 6.2-litre V8 petrol engine and six-speed automatic transmission to deliver much improved efficiency, while state-of-the-art safety features are now standard.
In the UK, three HUMMER H2 models are available priced from £48,995 (on-the-road) with a choice of five-door SUV, with seating for up to seven people or SUT (double-cab pick-up) body styles.
All 2008 H2 models are distinguished from previous models by larger openings in the iconic, seven-slot grille and the lower grille (to accommodate the increased cooling air-flow demands of more powerful V8 engine) and the lower bumpers are painted silver, instead of black. Two new exterior metallic colours are available (Graystone and Solar Flare) expanding the customer choice to six colours, while the interior is available in Ebony or Sedona Red/Ebony with leather seat surfaces.
"The 2008 HUMMER H2 represents a major step in the evolution of this iconic vehicle," comments Jonathan Nash, Managing Director HUMMER UK. "From performance to comfort to safety and overall refinement, the new H2 line-up delivers even more of what customers have come to expect from HUMMER. I'm sure that customers will be especially impressed with the new, more refined interior."