Hummer H2 delivers greater capability and comfort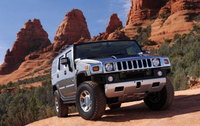 For 2008, the iconic HUMMER H2 features numerous changes that deliver a more luxurious, comfortable and refined interior, while retaining HUMMER's legendary off-road abilities and ruggedness. An all-new powertrain combines a 6.2-litre V8 petrol engine and six-speed automatic transmission to deliver much improved efficiency, while state-of-the-art safety features are now standard.
In the UK, three HUMMER H2 models are available priced from £48,995 (on-the-road) with a choice of five-door SUV, with seating for up to seven people or SUT (double-cab pick-up) body styles.
All 2008 H2 models are distinguished from previous models by larger openings in the iconic, seven-slot grille and the lower grille (to accommodate the increased cooling air-flow demands of more powerful V8 engine) and the lower bumpers are painted silver, instead of black. Two new exterior metallic colours are available (Graystone and Solar Flare) expanding the customer choice to six colours, while the interior is available in Ebony or Sedona Red/Ebony with leather seat surfaces.
"The 2008 HUMMER H2 represents a major step in the evolution of this iconic vehicle," comments Jonathan Nash, Managing Director HUMMER UK. "From performance to comfort to safety and overall refinement, the new H2 line-up delivers even more of what customers have come to expect from HUMMER. I'm sure that customers will be especially impressed with the new, more refined interior."
All-new, luxury-appointed interior
While drivers will enjoy the 2008 H2's improved performance on the road, they'll appreciate the experience more – thanks to the all-new interior. This features a completely redesigned dashboard, new seats – including an optional third-row seat for two passengers– new door trim panels, new controls, new rear-seat heating/air conditioning system, new rear-seat overhead DVD entertainment system and a new premium audio system.
"The new interior delivers a more refined, more precise, premium feel," enthuses Nash. "Everything from the flushness of the controls to the feel of the materials exudes craftsmanship, while the fine details, like the leather seat piping, create a consistent, up-market design style that is echoed across the entire HUMMER family."
The new H2 seats present a more sculptured appearance and offer improved comfort. The top anchorage of the front seat belts is now mounted on the B-pillar rather than on the seats and this change enabled engineers to adopt an uncompromising approach to achieving optimum seat comfort.
Complementing the new seats are new door trim panels and throughout the cabin soft-touch materials and new, more tactile controls enhance the feeling of craftsmanship demonstrated by a new interior. Precision design ensures that the interior panel gaps are just one millimetre and an all-new instrument panel with a six-gauge instrument cluster features a more refined appearance.
The dashboard panel also features new vents that enhance heating or cooling comfort throughout the vehicle – particularly for the second-row and third-row seat occupants. The new centre stack houses the climate controls and a new premium BOSE audio and surround sound system.
Additional comfort and convenience features that are standard or optional (depending on model) include a new rear-seat overhead DVD entertainment system, a satellite navigation system, a rear-view camera system and heated windshield washer fluid. The 2008 H2 now comes with a remote starting system that enables the vehicle's interior to be heated or cooled prior to driving.
Driving experience
The powerful heart of the 2008 H2 is an all-new, all-aluminium, small-block 6.2-litre V8 engine with performance and fuel efficiency-optimizing technologies including variable valve timing. Lighter and more powerful, the new V8 boasts a 20% power increase over the previous engine. It generates 393 ps of power at 5700 rpm and a massive 574 Nm of torque at 4300 rpm.
The new engine is mated to a new Hydra-Matic 6L80 six-speed electronically controlled automatic transmission with two overdrive ratios that help deliver an excellent balance of performance and fuel economy. The six gears feature a wide ratio spread with a low 1st gear (4.02:1) for brisk take-off from standstill and high 5th (0.85:1) and 6th gear (0.66:1) for quite, refined and fuel-stretching higher speed cruising.
For a more responsive driving experience, the 6L80 transmission is equipped with HUMMER's 'tap up/tap down' capability that allows the driver to manually select gears sequentially (one at a time), controlling upshifts and downshifts with buttons on the steering wheel.
The new powertrain combination helps the 2008 H2 deliver an additional 1700 lb (773 kg) of towing capacity – up from 6500 lb (2954 kg) to 8200 pounds (3727 kg). A host of additional powertrain revisions also contributes to the H2's improved performance and efficiency. These revisions including: a larger-capacity cooling system, an electric engine cooling fan which reduces 'drag' on engine, releasing more horsepower, a regulated voltage control that maximises fuel economy (by charging electrical components only when necessary), a new LAN electrical architecture that's more efficient and uses less electrical energy and a 3.73:1 rear axle ratio as standard.
On-road, the H2 driving experience is quieter and more refined, thanks to new, re-tuned engine air intake and exhaust systems. On- and off-road, enhanced performance is assured by a revised steering system that has a quicker ratio and improved on-centre feel with increased self-centring.
Off-road, the H2's 4x4 system has even greater ability in keeping with its legendary status. The transfer case is stronger, the 'crawl' ratio is 39.7:1 – an improvement of about 20%, the transmission's 'tap-up / tap-down' system provides more control on gradients and the new electronic traction control system is standard.
Upgraded Safety as Standard
Complementing the 2008 H2 line-up's performance and comfort improvements are significant enhancements to the vehicle's safety systems, which include several new standard features:
Roof rail-mounted full length curtain air bags with rollover sensing system
Front seats safety belt pretensioners
Electronic stability control system with rollover mitigation technology
New traction control system
Tire pressure monitoring system
Also new is an emergency brake assist (EBA) system – the first application of this technology on a full-size GM truck or SUV. This electronic system detects when a driver is braking unusually severely and delivers maximum brake pressure to help stop the vehicle more quickly and with more control. It is a standard feature on all 2008 H2 models.
An additional feature that contributes to a safer driving experience is the new Rear Vision System – a rear view camera that monitors the area behind the vehicle to ensure safe reversing. The camera's image is shown on a drop-down mini-screen which slides out of the rear-view mirror. The RVS system is standard on Luxury models and available as an option on the Adventure (£850).
True to the soul of HUMMER
While the 2008 H2 is offered with a new powertrain and new interior, its foundations remain the same, true to the soul of HUMMER. The H2's fully welded ladder-type chassis frame features a modular, three-piece design incorporating a number of hydroformed components. This design delivers outstanding strength, stiffness and dimensional accuracy.
To achieve its exceptional and legendary off-road performance – including travelling through 508 mm deep streams, climbing over 406-mm steps and rocks, powering up 60% gradients, coping with 40% slide slopes and paddling through deep sand or snow – the H2 engine delivers massive (574 Nm) torque via a six-speed transmission and heavy duty 4x4 drivetrain with 39.7:1 crawler ratio and lockable rear differential.
The H2 has short overhangs for radical approach and departure angles, and exceptional ground clearance for minimal grounding on trails. Standard 17-inch wheels, heavy-duty independent front suspension and a five-link rear suspension provide superior handling, carrying and towing capability. The solid rear axle ensures durable sure-footedness, particularly in tight, off-road situations. Also standard is extensive underbody protection for the engine and transmission components.
A new, four-channel anti-lock braking and traction control system (ABS/TCS) provides optimum control on slippery surfaces. In addition, the ABS is calibrated to detect and adjust its braking capabilities to rough off-road surfaces like gravel and potholes. The new TCS allows the driver to use a two-foot driving technique (one foot on the brake, the other on the throttle pedal), to achieve the best driving style for negotiating a steep, rocky trail. The TCS also includes the ability to gain traction through a single wheel. A self-levelling rear air spring suspension system is available for extreme off-road and towing requirements.
H2 SUT – maximum utility and fun
Like the HUMMER H2, the H2 SUT can carry passengers and cargo, but does so with a twist of extra versatility – a pick-up style open cargo bed enables convenient storage of larger items. When more cargo space is required, a 2440 x 1220 mm pick-up bed can be created by powering the rear window into the Midgate, and then folding forward both the Midgate and rear seat backrest. When four occupants are on board, the bulkhead at the rear of the SUT's passenger compartment remains upright, still providing ample cargo-carrying capacity.
Practicality aside, the H2 SUT also offers an open, invigorating driving experience. At the push of a single button, the driver can lower all four side windows and the rear window. Using a separate switch, the standard sunroof can also be opened, giving SUT a truly open-air ambience.