Hummer stars in Transformers movie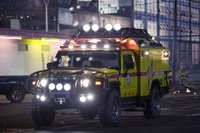 The movie, which is based on the popular Hasbro action figures, stars Shia LaBeouf, Tyrese Gibson and Josh Duamel, and includes Steven Spielberg in its production team. It is set to further broaden the awareness of the HUMMER's iconic design to new audiences throughout Europe.
The American brand is now supported by a strong new HUMMER European dealer network with more than 40 outlets, reflecting the rapid growth of the brand in the region. Two model ranges, the HUMMER H2 and H3, both benefit from this increased dealer support, as well as Roadside Assistance across Europe, valid for 48 months, and a four-year/ 60,000-mile warranty.
The HUMMER H2 stands out from the crowd with its distinctive square-cut profile. Available as SUV and SUT (pick-up truck form), the H2 is powered by a GM Vortec 6.0L V8 engine that generates 325 hp (242 kW) at 5200 rpm. The HUMMER H2 remains the all-terrain conqueror, offering a smooth and comfortable drive for its occupants on and off-road.
The HUMMER H3 is more compact than the H2 and was fully re-designed and re-engineered to create a luxurious everyday vehicle for European driving conditions. It is approximately the same length as a larger family saloon, but is powered by a 244 hp (180 kW) GM Vortec 3.7-litre, inline five-cylinder engine, and offers all the style, performance and go-anywhere capability which gives HUMMER its legendary status.