Extraordinary places to say "I do"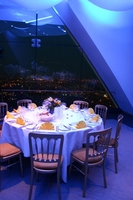 Most wedding plans begin with an exhaustive search for that perfect venue. Gone are the days of modest ceremonies and simple buffets in favour of somewhere more original, memorable and unique. Couples are searching for that one-off location that best reflects their personalities and interests.
With so many weird and wonderful settings to choose from in the South and South East, finding the ideal venue for the big day can be rather overwhelming. Whether you're after an historic building, a famous TV set, or a ceremony with a view, the diversity of venues available guarantees the perfect setting for each and every taste.
If you're planning a summer wedding, look no further than the stunning counties of Hampshire, Sussex and Surrey. With two National Parks, scenic coastlines, rolling hills and more sunshine hours than elsewhere in the UK, the counties offer a scenic backdrop for an outdoor wedding. Oenophiles can combine their love for their partner and wine with an English country wedding at Hambledon Vineyard in Hampshire or Denbies Wine Estate in Surrey. There'll certainly be no drinks shortage when it comes to the toast! For amazing harbour views Portsmouth offers a choice of contemporary and historic settings. A ceremony 105 metres up The Spinnaker Tower provides unrivalled views and watching the sun set as you sip Champagne on board the magnificent HMS Warrior is truly enchanting.
A winter wedding needn't be all about the roaring fires and sumptuous halls of a manor house, art galleries and museums offer a lavish and quirky alternative for an indoor celebration. Imagine saying your vows with a backdrop of internationally acclaimed art. Bournemouth's Russell Cotes Art Gallery and Museum not only houses more than 1,000 artworks and artefacts but also epitomises elegance and grandeur. The spectacular cliff top villa overlooks its own pretty private garden and Bournemouth's breathtaking seascape. At Southampton City Art Gallery the contemporary collection compliments the lofty ceilings and large, ornate windows of the exhibition hall, providing a unique and harmonious environment. Or if it's the wow factor you're after then the iconic Royal Pavilion at Brighton never fails to deliver an abundance of oohs and aahs.
For a touch of Hollywood glitz and glamour, choose one of the South East's many venues immortalised on TV and in film. Who could fail to recognise Berkshire's Highclere Castle as the setting for the award-winning drama Downton Abbey? Follow in the footsteps of Lady Mary and make your grand entrance by sweeping down the great oak staircase into Highclere's fairytale, gothic saloon. Hever Castle in Kent offers an equally splendid and majestic location for your big day. The double moated, 13th Century castle has been set location for numerous blockbuster films including The Other Boleyn Girl and Elizabeth: The Golden Age.
Your wedding reception needn't be restricted to one location; a wedding on the move can be a fun and charming alternative. For a wedding on water allow French Brothers of Windsor or Hobbs of Henley to treat you and your guests to a romantic river cruise down the Thames in their prestigious vessels? Or for a celebration on the rails, the luxurious dining cars on the Watercress Line in Hampshire can host a sumptuous silver service.
Whether you opt for a more traditional venue or something outside the box a wedding in The Beautiful South is certain to leave a lasting impression.
For more ideas and inspiration, see visitsoutheastengland.com.