Hummer to the rescue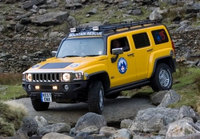 HUMMER has partnered with Mountain Rescue (England & Wales), to provide a specially modified vehicle for the UK charity.
UK Mountain Rescue celebrates its 75th anniversary in 2008 and to commemorate this landmark, the newly launched right-hand drive HUMMER H3 will support the charity's busiest teams in England and Wales across the year. The hardy on/off road vehicle will carry both equipment and personnel as Mountain Rescue goes about saving hundreds of lives annually.
Hailed as the off-road vehicle – 'like nothing else,' the H3 is one of the most capable off-road vehicles on the market today. Recently introduced into the UK, the H3 is a smaller, more affordable and agile version of the larger H1 and H2 models. In addition to its iconic design, the vehicle boasts a number of advanced off-road features allowing the driver to enjoy full versatility in some of the most gruelling driving conditions nature has to offer.
The H3 is the only vehicle of its size that can climb a 407mm vertical wall or 60% slope, traverse a 40% side slope and operate in up to 610mm of water, making it a sure-footed choice for Mountain Rescue. To make the vehicle even more effective for Mountain Rescue, HUMMER has enhanced the vehicle with a number of specialist features including grille and roof mounted spotlights to aid visibility in treacherous conditions and rocker panel protection which gives added protection to the lower body and door panels against rock strikes and other strong blows.
Mountain Rescue (England & Wales), whose Patron is HRH Prince William of Wales, relies entirely on charitable donations to survive and is not a government funded emergency service as is commonly thought. The organisation is made up of dedicated volunteers whose selfless and courageous work provides assistance to anyone lost or injured in the UK mountains, fells or moorland. The service is provided 24 hours a day, 7 days a week, 365 days a year and operates in all weather conditions.
There are currently 53 teams with 3,500 team members covering England and Wales who undertake well over 700 rescues every year and the service is free of charge. A typical rescue may involve over 20 team members and take around 6 hours. Mountain Rescue is also called to help at major incidents such as air crashes, both civilian and military, train crashes and floods and was instrumental in assisting the victims of the recent flooding in South Yorkshire, Gloucester and Wiltshire.
Steve Catlin from HUMMER says: "We are delighted to provide such a tangible support to one of the country's most vital charities. The HUMMER H3 is the ideal vehicle to tackle some of the toughest terrains and we hope it can provide a valuable support to the incredibly brave and courageous work that Mountain Rescue teams undertake throughout the year."
Andy Simpson from Mountain Rescue (England & Wales) says: "As we rely entirely on charitable donations to keep going, we hope the HUMMER H3 will be a fantastic asset to some of our busiest Mountain Rescue teams in 2008."