All the brand's features in a compact form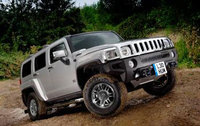 Building on the remarkable abilities and image of the HUMMER H1 and H2, the midsized H3 is the most accessible HUMMER ever. The H3 was designed in response to global demand for a luxurious, everyday vehicle that offered the legendary HUMMER design and unparalleled off-road performance in a more useable and urban-friendly form.
Consequently H3 packs authentic HUMMER style and capability into more compact dimensions. Shorter, lower and narrower than the H2, the 2008 H3 is a similar length to a large family saloon and can comfortably navigate dense city traffic, yet still deliver HUMMER's trademark all-terrain crawling and climbing capability out of town.
Developed for markets around the world and built in South Africa, the 2008 HUMMER H3's iconic design continues to make it one of the most easily recognizable vehicles on the road. The signature seven-slot louvered front grille, flat windscreen and rectangular side windows, the profile's low glass-to-metal ratio, giant 32-inch outside diameter Goodyear Wrangler tyres and externally carried spare wheel – are all classic HUMMER design cues.
H3 is the first HUMMER ever to offer the choice of a manual or automatic transmission. A smooth-shifting five-speed manual is standard, while GM's famed Hydra-Matic 4L60 electronically controlled four-speed automatic transmission is an option.
In the UK the 2008 HUMMER H3 is available as a three model range of right-hand drive vehicles, each with a choice of manual or automatic transmission. The H3 SE is priced from £26,495 (on-the-road), the H3 Luxury from £31,495 and the H3 Adventure from £30,495. A choice of nine exterior and five interior colours is offered.
Although the H3 is less than 5-metres long (overall length is 4782 mm) its long wheelbase (2841 mm) and broad track (1645/1665 front/rear) place a wheel-at-each corner for maximum stability, on- and off-road. The H3's more compact size provides manoeuvrability advantages, such as an 11.3-metre turning circle.
The global version of the HUMMER H3 for all markets outside of North America is assembled at GM's state-of-the-art Struandale Assembly Facility in Port Elizabeth, South Africa. The facility benefited from a US$100-million refurbishment in 2006 and has been described as one of the most important milestones in the history of GM.