SsangYong launches new model range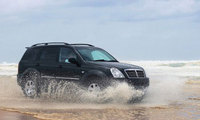 SsangYong has completely refreshed its model line-up with a new range of Kyron, Rexton and Rodius models starting from just £14,995 for the Kyron S and Rodius 270 S. But that's not all. In addition to the standard three year/60,000 mile warranty, SsangYong is offering three years/30,000 miles free servicing, free satellite navigation upgrades on certain models and low cost finance. The new range is in dealerships now.
The South Korean SUV, 4x4 and MPV manufacturer is being re-launched by Koelliker UK Ltd, a new company that took over importation and distribution at the end of last year. The new range has been substantially upgraded with wider choice, specifications and pricing to suit the UK market. And there's a brand new web site at ssangyonggb.co.uk.
New Kyron
There are six Kyron SUV models with most using the latest clean and economical 2.0 litre, turbocharged common rail diesel engine, with two or four wheel drive and a choice of manual or automatic transmissions. The SsangYong Kyron goes head-to-head with the Kia Sorento, Hyundai Santa Fe and Chevrolet Captiva.
At £14,995 (previous Kyron models started at £17,995) the Kyron S easily undercuts its competitors and even at this price, gets air conditioning, electronic stability programme (ESP), hill descent control (HDC), ABS brakes, a Kenwood radio and CD player and steering wheel audio controls. The five speed manual transmission is mated to the 141 PS turbo diesel engine with 310 Nm of torque at 2,250rpm. All Kyrons are versatile and practical five-seaters that will tow up to 2.3 metric tons. The extra urban fuel consumption is up to a pleasing 45.6mpg.
Add part-time four-wheel drive, and the Kyron S 4WD comes in at £16,995 with Mercedes-Benz 5-speed T-Tronic automatic transmission adding just £1,500 for the Kyron S 4WD Auto.
There are two Kyron EX models, both with part-time four-wheel drive and a choice of manual or auto transmission. EX models gain rear parking sensors, electric folding door mirrors, larger alloy wheels, side airbags, leather upholstery and a Kenwood touch screen audio and navigation system. The EX Auto also has cruise control. The Kyron EX is £19,495 and the EX Auto is £20,995.
For the ultimate in comfort, equipment and go-anywhere four-wheel drive ability, the Kyron 2.7 SPR wants for nothing. Its huge towing capability comes from permanent four-wheel drive and the newest SsangYong 2.7 litre, turbocharged common rail diesel engine. This gives 165 PS and a thumping 340 Nm of torque at 2,525rpm. With the Mercedes T-Tronic auto transmission, it still returns an extra urban consumption of 34mpg. The price is £22,495.
New Rexton
All three new SsangYong Rexton models have all-wheel drive and the 2.7 litre common rail turbo diesel engine for big towing capacity and off road capability. The Rexton squares up against the Mitsubishi Shogun, Land Rover Discovery and Jeep Cherokee and whichever way you look at it, offers great value and performance with huge advantages over the competition.
The SsangYong Rexton 270 S is £19,995 – a £2,600 reduction on the lowest price of the previous model – yet it comes complete with ABS brakes, ESP with Active Rollover Protection (ARP), HDC, climate control and Kenwood audio system. The Rexton S uses manual transmission and torque on demand (TOD) four-wheel drive. Like other Rextons, it will happily tow up to 3.2 metric tons – enough for most caravanners, boat and horse owners.
The Rexton 270 S Auto comes with cruise control and the Mercedes T-Tronic transmission for only £1,500 more.
For luxury pulling power, the Rexton 270 SPR is outstanding value at £24,995. You name it and it's probably got it, with only a rear roof spoiler and a Kenwood touch screen audio and navigation system as options.
New Rodius
For those looking for serious people carrying capacity, SsangYong now offers four Rodius models in 2wd and 4wd – all with the 2.7 litre turbo diesel…..and with automatic transmission as an option.
A full seven-seater with ample luggage space, the Rodius 270 S easily undercuts the Kia Sedona and starts at only £14,995. All Rodius models use the 2.7 litre common rail diesel engine with 165PS and massive torque. Even a vehicle this big can achieve up to 35.8mpg.
The 270 S is equipped with ABS, remote keyless entry, speed-sensing door locks, climate control and Kenwood audio system. It is also hugely practical with multiple seat variations and useful extras such as two 12v DC power outlets.
The Rodius 270 ES gains reverse parking sensors, auto headlights, electric folding mirrors, privacy glass, alloy wheels, ESP and leather upholstery for only £2,000 more. The Mercedes T-Tronic transmission is likely to be very popular for an additional £15,000.
Topping the Rodius line-up is the 270 EX Auto with torque-on-demand all-wheel drive providing outstanding traction and stability. It packs a big punch at only £19,995.
The SsangYong range appeals to those looking for a well equipped, immensely practical vehicle who want value for money rather than paying the premium prices demanded by other brands. They are especially suitable for anyone with a regular or occasional need to tow a caravan, boat or horsebox and if you need to venture off the tarmac, SsangYong's four-wheel drive systems will let you do it with ease.
There are about 60 SsangYong dealerships in the UK and you can find your nearest by going to ssangyonggb.co.uk.