Road tax increases won't change Ssangyong prices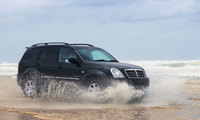 A revitalised SsangYong has reacted quickly to this week's Budget announcements of increases in vehicle excise duty (VED or road tax) by announcing that SsangYong on-the-road prices will be unaffected.
Chancellor Alistair Darling announced on Wednesday that VED on many vehicles in the current bands would increase from £300 to £400. But SsangYong has immediately countered this 'showroom tax'.
Paul Williams, managing director of SsangYong distributor Koelliker UK explains: "Earlier this year we announced a new SsangYong range with revised specifications and new pricing – up to £3,000 less than the previous range. We believe that our pricing is very competitive, so we have decided to absorb the tax increase and leave our on-the-road prices unchanged. It's very possible that this move will make us even more attractive against competitors."
South Korean SsangYong has completely refreshed its model line-up this year with a new range of Kyron, Rexton and Rodius models starting from just £14,995 for the Kyron S and Rodius 270 S. The new range has been substantially upgraded with wider choice, specifications and pricing to suit the UK market.
Using 2.0 and 2.7 litre turbo diesel engines, they will tow a braked trailer of up to 3.2 tonnes and appeal to those looking for a well equipped, immensely practical vehicle who want value for money rather than paying the premium prices demanded by other brands. They are especially suitable for anyone with a regular or occasional need to tow a caravan, boat or horsebox and if you need to venture off the Tarmac, SsangYong's four-wheel drive systems will let you do it with ease. There's a brand new web site at ssangyonggb.co.uk.