Motorists gambling with coolant selection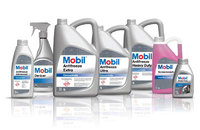 Two thirds of motorists have no idea how to choose the right antifreeze & coolant for their car, according to research by Mobil Car Care Marketeer, Cosan Lubricants.
Changes in engine technology and increasingly demanding environmental legislation means that antifreeze & coolant products have become increasingly model-specific.
Using the wrong antifreeze & coolant can result in overheating, corrosion, failure of engine components and possible invalidation of the vehicle's warranty.
But the survey revealed that more than 83% of UK motorists are unaware of the function that the antifreeze & coolant plays in their car and 65% admitted they would not know how to choose the right product for their vehicle.
Cosan Lubricants spokesman, Mike Bewsey, said: "Many people take the view that replacing antifreeze & coolant with a product that is the same colour will suffice. But that is not true and could result in expensive damage and an unwanted garage bill."
In recent years, engine design has changed to improve fuel efficiency and lower emissions. This has seen car manufacturers developing increasingly tailored fluids for specific, individual engine needs. The increasing demands of these modern engines have made operating conditions more severe, meaning more is required from the cooling system, while the use of an increasingly diverse set of materials for engine construction further highlights the fact that so called 'universal' products cannot address the requirements of multiple manufacturers.
Mobil Antifreeze Advanced (OAT) and Mobil Antifreeze Extra (silicate based technology) contain BASF Glysantin (G30 and G48 respectively), Original Equipment fill to most European vehicle manufacturers, with more vehicle manufacturer approvals than any other antifreeze & coolant on the market.
The Mobil Car Care product guide (Mobil-CarCare.com) provides a quick and easy way to find which antifreeze & coolant is right for your vehicle, making this increasingly complicated choice a lot simpler.
In addition, Mobil Car Care has added two new premium antifreeze & coolant products to its range: Mobil Antifreeze Ultra (with BASF Glysantin G40) and Mobil Antifreeze Heavy Duty (with BASF Glysantin G05), which will be available from all good motor factors soon. These new high performance products will expand the current range, increasing its coverage so Mobil Car Care will have recommended antifreeze & coolant products for over 99% of vehicles in the UK.
You can use the Mobil Car Care product finder to find out which Mobil antifreeze & coolant product is the correct choice for your vehicle. Simply go to the Mobil Car Care website (Mobil-CarCare.com) and select your vehicle using the VRN (Vehicle Registration Number) tool or the make and model search.