Ten times round the world, please driver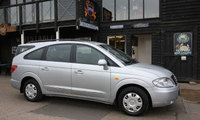 There's only one thing a taxi driver values as much as total reliability, and that's the reassurance that if something does go wrong, he or she will be able to continue working with minimal vehicle downtime.
SsangYong is providing just that with a new three year or 250,000 mile warranty for the 'hire and reward' trade on all Rodius seven-seat models. A Rodius could now be driven the equivalent of 10 times around the world, or for three years whichever comes first, with all vital components covered – and the provision of a replacement Rodius should the original car be off the road.
Already popular in the trade because of its comfort, space for people and luggage, versatility and diesel economy and reliability, the Rodius now offers even more of what taxi operators want. The standard warranty of three years or 60,000 miles has been extended and revised by SsangYong and tailored to the needs of the taxi market.
Designed to keep taxis working, the warranty cover includes the engine, transmission, 4wd components (when applicable), wheel bearings, brakes and electronic components such as ABS systems and engine ECUs.
Whereas the standard warranty is designed for 'normal' motoring with very comprehensive bumper-to-bumper cover, the 250,000 mile hire and reward warranty works for taxi owners by giving them exactly what they need.
"We have taken soundings from the taxi trade and addressed their needs," said SsangYong marketing director, Nigel Unwin. "Normal customers don't miss out. In fact they get an even more comprehensive warranty tailored to their needs and likely mileages. The taxi warranty is designed to keep the vehicle working for its owner over much greater distances."
The SsangYong Rodius is ideal for moving up to seven people with its comfortable and practical interior and 2+2+3 seating layout, but it scores over smaller MPV-type vehicles by packing substantial luggage space – perfect for holidays and airport runs.
And these days, the Rodius will work for you economically too. Starting at less than £15,000 (on the road and including VAT), more than enough power and torque comes from a proven 2.7 common rail, five cylinder turbo diesel engine with 165PS and massive torque that returns up to 35.8mpg. Manual and auto transmissions are available as well as two and four-wheel drive.
The Rodius 270 S easily undercuts the Kia Sedona at just £14,995, yet comes equipped with ABS, remote keyless entry, speed-sensing door locks, climate control and Kenwood audio system. It is also hugely practical with multiple seat variations and useful extras such as two 12V DC power outlets.
The Rodius 270 ES gains reverse parking sensors, auto headlights, electric folding mirrors, privacy glass, alloy wheels, electronic stability programme (ESP) and leather upholstery for only £2,000 more. The Mercedes T-Tronic transmission is likely to be very popular for an additional £1,500.
Topping the Rodius line-up is the 270 EX Auto with torque-on-demand all-wheel drive providing outstanding traction and stability. It packs a big punch at only £19,995.
The SsangYong range appeals to those looking for a well equipped, immensely practical vehicle who want value for money rather than paying the premium prices demanded by other brands. You can find your nearest dealer by visiting ssangyonggb.co.uk.