Taiwan Cycling Festival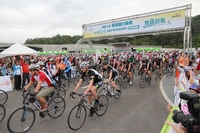 Attracting cycling aficionados from around the world, the popular Taiwan Cycling Festival will be held this year between 8 to 16 November. Created by the Taiwan Tourism Bureau and developed into an annual event over the last four years – the nine-day celebration showcases some of the country's fantastic cycling opportunities. The festival is designed both to develop the sport among participants at all levels in Taiwan, and to showcase the island as one of the most beautiful backdrops for both competitive and leisure cycling in the world. There will be three main cycling events to this year's festival including: 'Come! Bike Day', 'Taiwan KOM Challenge' and 'Formosa 900'.
Come! Bike Day
Enjoy a biking experience with Taiwanese locals – 'Come! Bike Day' held on 9 November is a picturesque, family-friendly bicycle ride around Sun Moon Lake's 19-mile perimeter, named one of the world's most breath-taking cycling routes. Sun Moon Lake, elevated 748 meters above sea level, is the only natural large lake in Taiwan and gets its name from the shape of its eastern part, shaped like the sun, and its western part, shaped like a crescent moon. On the day, participants can choose from an array of bicycling events from a classical ride, fun ride, the tannan challenge, kids push bike race or the bikeday carnival.
Formosa 900
Held between 8 to 16 November, the Formosa 900 is a nine-day round-island cycling tour, involving a total of eleven teams from all over Taiwan who will set-off from seven different locations. This tour is at a leisurely pace so as to ensure cyclists soak up the stunning landscape on the way, including the East Rift Valley. Running from north to south through the pristine Hualien and Taitung counties, the East Rift Valley is framed by the majestic Central and Coastal Mountain ranges and has side roads and bike paths perfect for cyclists of all abilities.
Taiwan KOM Challenge
The Taiwan King of the Mountain Challenge – shortened to Taiwan KOM Challenge – takes place on 15 November, with 400 cyclists taking part, from amateur cyclists to professional foreign participants from outside Taiwan. The 105 kilometre mountain ascent travels from the eastern coastal town of Hualien, starting at sea level, and climbs through scenic valleys to the finish at the summit of Hehuan Mountain in Huling – at 10,700 feet –one of the steepest courses in competitive cycling. Whilst challenging ones' stamina and strength, the route also includes a great variety of breathtaking scenery, making this a unique cycling challenge. Participants wishing to take part can now register for the KOM challenge, which can be accessed at: taiwankom.org.
For more information, visit: theme.taiwanbike.tw/event/2014/en/