SsangYong light commercials work for you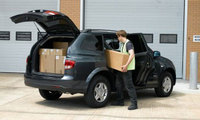 SsangYong's new slogan – it works for me – takes on even greater significance with the arrival of two new light commercial versions of the SsangYong Kyron and Rexton.
The SsangYong Kyron C-S and Rexton C-S are based on the Kyron and Rexton S passenger SUV cars, and converted in the UK with the removal of the rear seats to provide a flat load area, and black tinted rear windows. Both have four-wheel drive, with the Kyron C-S priced at £13,995 and the Rexton C-S at £15,995 (excluding delivery and first registration charges, and VAT).
The Kyron C-S has a payload of 530 kgand a mighty cargo volume of 2,384 litres. The Rexton C-S has a volume of 2,186 litresand an even bigger payload of 740 kg. A special guard to separate driver and passenger from any load being carried is available for £299 including VAT and fitting. A Mercedes T-Tronic auto transmission is an option on both models.
SsangYong is also making a tachograph fitting kit available for both models – something that isn't available from some competitors. Later, a two-wheel drive Kyron C-S will be available at only £11,999 (excluding delivery and first registration charges, and VAT).
SsangYong Kyron C-S
The LCV version of the Kyron uses SsangYong's latest 2.0 litre, four cylinder turbo-charged common rail diesel engine delivering 141 PS and 310 Nm of torque. Transmission is a five speed manual with part-time four-wheel drive. Under normal road use the Kyron is rear-wheel drive, with 4wd selectable at any time when the going gets tough.
The separate ladder-type chassis and rigid five link coil sprung rear suspension are built for hard work, but the Kyron's equipment levels are anything but utilitarian. The Kyron C-S gets the same specification as the passenger car from which it is derived.
Commercial users are likely to welcome the Kyron's electronic stability programme (ESP) with active rollover protection (ARP), and hill descent control (HDC) when working in slippery off-road sites. It also has ABS brakes with electronic brake distribution and electric windows and door mirrors. Two 12 volt DC power outlets and roof bars also make things easier.
Drivers and passengers will be just as impressed by auto climate control air conditioning and a six-speaker Kenwood audio system with CD and RDS radio and steering wheel controls.
The Kyron is a compact vehicle with a gross vehicle weight of 2,530 kg. It will tow anything up to 2.3 tonnes and has easy access to the cargo area via the rear doors and the rear tailgate. The extra urban fuel consumption in passenger car trim is 45.6mpg with class-leadingCO2 emissions at 191 g/km.
SsangYong Rexton C-S
The Rexton C-S provides a greater-punch with a five cylinder, turbo common rail diesel engine pushing out 165 PS at 4,000rpm and with torque of 340 Nm at 2,400rpm. A five-speed 'torque on demand' (TOD) manual transmission normally supplies most power to the rear wheels, but if things get slippery, the system automatically and smoothly distributes power to the axle with the most grip.
A full-size 4x4, the Rexton C-S will easily tow up to 3.2 tons with its TOD system providing the traction under the most difficult conditions. There's easy access to the cargo area of course, through the rear doors and the rear tailgate. There are three 12 volt DC outlets.
With similar equipment to the Kyron C-S, operators will be comfortable and safe. The Rexton comes with a host of acronyms. ESP, ARP and HDC are there, plus of course, ABS brakes with EBD.
The electric door mirrors will fold in and are heated. The front screen is also heated while the crew can relax with the auto climate control. A six-speaker Kenwood CD player and RDS radio has steering wheel controls.
The Rexton C-S has a gross vehicle weight of 2,760 kg. Extra urban fuel consumption of the passenger version is 37.7mpg.
Like SsangYong's passenger cars, the C-S models have a three year/60,000 mile warranty. Costs of ownership have recently been slashed with the introduction of very competitive menu servicing and an average 40 per cent reduction in parts prices. For your nearest dealer, visit ssangyonggb.co.uk.