SsangYong summer sizzlers take the heat out of buying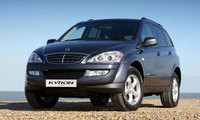 At holiday time, most of us feel more than just the heat – and this year it's not just summer clothes causing the squeeze. So in the run-up to the new September registration rush, SsangYong is offering a raft of very tempting deals on its already value-for-money range.
Deposit? What deposit?
We're all feeling the pinch, so SsangYong is offering special finance terms on Rodius seven-seat and Kyron SUV models – with the South Korean manufacturer stumping up the deposit.
For example, go for a Kyron 2.0 S or a Rodius 270 S – both starting at £14,995 – and SsangYong will help out by paying the £3,299 deposit. All you have to do is pay £249 a month for 59 months, so avoiding the need to find that initial lump sum.
Free upgrade
Just like being offered an upgrade to first or business class at the check-in desk – but much better value. SsangYong is adding up to £1,500 worth of value on the Kyron, so you can have the Mercedes T-Tronic automatic transmission you always promised yourself for the price of a manual. Or you can have a Kyron EX model for only £1,000 more than a Kyron S. So upgrade from a Kyron 2.0 S to a 2.0 EX and save up to £3,500 with manual transmission or £1,500 for the auto.
That's not all. Choose the top-of-the-range Kyron 2.7 SPR and you can have it for the price of a 2.0 EX auto and save £1,500.
Special edition and free servicing
A further option is the new special edition SsangYong Rodius 270 S+. For only £1,000 more than the £14,995 price of a Rodius 270 S, the + model looks even better with alloy wheels and gets more than a touch of luxury with leather upholstery throughout the seven seats.
There's a great deal on the 2.7 turbo-diesel Rexton too. All Rexton models come with three years or 30,000 miles' free servicing to make the household or business budget stretch that bit further.
Last but not least, free satellite navigation upgrades are available on selected models. SsangYong's summer sizzlers will be available until the end of September.
There are six SsangYong Kyron models with most using the latest clean and economical 2.0 litre, turbocharged common rail diesel engine, with two- or four- wheel drive and a choice of manual or automatic transmissions. The Kyron already represented a considerable saving over its competitors such as the Kia Sorento, Hyundai Santa Fe and Chevrolet Captiva before these summer sizzler offers.
The Kyron starts at £14,995 and even at this price, gets air conditioning, electronic stability programme (ESP), hill descent control (HDC), ABS brakes, a Kenwood radio and CD player and steering wheel audio controls. The five speed manual transmission is mated to the 141 PS turbo diesel with 310 Nm of torque at 2,250rpm. All Kyrons are versatile and practical five-seaters that will tow up to 2.3 metric tons. The extra urban fuel consumption is up to a pleasing 45.6mpg.
There are two Kyron EX models, both with part-time four-wheel drive and a choice of manual or auto transmission. EX models gain rear parking sensors, electric folding door mirrors, larger alloy wheels, side air bags, leather upholstery and a Kenwood touch screen audio and navigation system. The EX Auto also has cruise control.
For the ultimate in comfort, equipment and go-anywhere four-wheel drive ability, the Kyron 2.7 SPR wants for nothing. Its huge towing capability comes from permanent four-wheel drive and the newest SsangYong 2.7 litre, turbocharged common rail diesel engine. This gives 165 PS and a thumping 340 Nm of torque at 2,525rpm. With the Mercedes T-Tronic auto transmission, it still returns an extra urban consumption of 34mpg.
All three SsangYong Rexton models (from £19,995) have all-wheel drive and the 2.7 litre common rail turbo diesel engine for big towing capacity and off-road capability. The Rexton squares up against the Mitsubishi Shogun, Land Rover Discovery and Jeep Cherokee and whichever way you look at it, offers great value and performance with huge advantages over the competition.
For serious people carrying capacity, SsangYong's Rodius models come in 2wd and 4wd – all with the 2.7 litre turbo diesel - and with automatic transmission as an option.
A full seven-seater with ample luggage space, the Rodius 270 S easily undercuts the Kia Sedona and starts at only £14,995. All Rodius models use the 2.7 litre common rail diesel engine with 165PS and massive torque. Even a vehicle this big can achieve up to 35.8mpg.
The SsangYong range appeals to those looking for a well equipped, immensely practical vehicle who want value for money rather than paying the premium prices demanded by other brands. They are especially suitable for anyone with a regular or occasional need to tow a caravan, boat or horsebox and if you need to venture off the Tarmac, SsangYong's four-wheel drive systems will let you do it with ease.
For more information, visit ssangyonggb.co.uk.