Forge Action Day 2014 - The Best One Yet!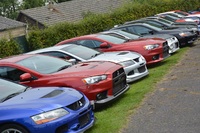 With the most eclectic guest list on the UK show-scene, the Forge Motorsport Action Day lived up to its reputation as being the most inclusive of summer shows. There can't be many track and show events where this variety of machinery gets shown off both on and off the circuit!
The weather was mercifully dry all day, and thanks to a pre-booked list of clubs already being fully sold out, the guests started arriving early, meaning that the paddock of this superb Wiltshire circuit was soon thronging from the second that the gates opened.
As the title sponsors, Forge naturally took centre stage, with a huge stand showcasing every possible type of show and track car that used the company's products. Everything from a superbly executed hot-rod style Beetle (complete with Gatling gun exhaust, through to high-spec drift machines, air-ride equipped Audi's, and even Zac Miles' own beautifully interpreted and incredibly clean Mk1 Golf. All of the company's products were on sale too, including the Siliconhoses.Com and Hosetechnik ranges, with many show-goers taking advantage of show-special offers to get their own car looking – and working – as well as the cars on the stand.
The Forge Action Day is also famed for its well-attended trade village, and this year was no exception, with blue-chip brands such as Tarox Brakes, Milltek Exhausts, Cobra Seats, ASNU Injectors, Powerflex Bushes, Eibach Springs and Meguiars Car Care all lining up with a plethora of stunning demo cars and equally impressive products to tempt the record crowds. Granted more freedom than at most shows, due to the diverse nature of the clientele, it was fantastic to see the variety of cars displayed by these manufacturers. Milltek bought its UR Quattro down for the day, to nestle amongst its newer demo models, while Tarox showcased a Twisted Defender and immaculate stanced Porsche 964. Forge Action day is that kind of show, you see... It's impossible to arrive in the wrong car!
This was a fact easily proven by a walk around the greater paddock and club areas to take in the many motors on offer. Whether you prefer Ford, Vauxhalls, VW Group cars, Retro Tin, Japanese metal, Classics, Kit cars or Yanks, there was bound to be an awful lot of vehicles to take your fancy. Capris rubbed shoulders with Focus RSs, AE86s sat next to 'Mustang' Celicas and New Minis sat face to face with old. In short, it was petrolhead heaven with a relaxed vibe and a bewildering quantity of different marques, models and modifications.
Out on track, group sessions were running with castle Combe's usual efficiency to ensure that everyone who had booked track time was able to get it. It was fantastic to see the diversity out on the circuit too, with the drift sessions being particularly notable. A Mk2 Escort on the lock-stops between an E30 M3-bodied drift weapon and a Nissan S15… a scene that really sums this event up!
The Meguiars parade lap allowed the more beautiful and 'stanced' cars to come out and play, and in between all of that, the cars of JabbaSport, Bo Nielsen and Mission Motorsport did their level best to scare punters with flying laps and make a few quid for a wonderful cause in the process. As the day went on, it got brighter and warmer, making for a wonderful sunset finale to a hugely enjoyable event. On the subject of showcars, Forge's own prestigious best of show award went to the stunningly prepared Renault Maxi 5 Turbo of ?? with Claire Miskelly's widebody Honda S2000 picking up the Castle Combe award.
Catching up with Forge MD Peter Miles after the dust had cleared and the last guest had gone home, it was clear that the whole company had been delighted with the day's proceedings. "We say it every year," he smiled. "But all we ever try to do with this show is make the kind of event that we all want to attend as petrolheads. We do work hard to make it happen, but in the end, it's the guests, the traders, our friends, the car owners and the teams at Castle Combe, Falken and Mission Motorsport that make it what it is. We've had a blast.. and we hope that everyone can make it again next year."
For more information on Forge and its products, visit forgemotorsport.co.uk.