Puncture? No problem – It's SsangYong Approved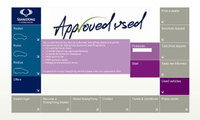 Buying a used car can be fraught with danger and uncertainty, but not when it's SsangYong Approved from a SsangYong dealer. The new SsangYong Approved used car programme aims to give buyers full confidence with some of the best benefits available – even down to fixing punctures.
Every SsangYong Approved used car will go through a comprehensive 101-point technical check to ensure that it meets or exceeds SsangYong's demands. If something isn't quite right, it will be rectified before it can be called SsangYong Approved.
Each SsangYong Approved car will have a minimum of 12 months SsangYong warranty and a minimum of 12 months European AA roadside cover. Of course, all SsangYong Approved cars will also have a full provenance check including mileage verification, whether there is any outstanding finance and whether there have been any insurance claims. Only if a car can satisfy all this, will it become SsangYong Approved.
But that's not all. As a further reassurance to customers, a SsangYong Approved car will get free MOT tests and free puncture repairs for the life of the car, providing it is serviced and MOT tested within the SsangYong network.
The minimum 12 months warranty covers all mechanical and electrical components that were part of the original manufacturer's warranty with only minor exceptions. Cover is for a chosen period with no mileage limits, so a customer can increase the warranty cover in monthly increments up to a maximum 24 months. Whereas most competitor schemes only cover cars up to five years old and 60,000 miles, the warranty on SsangYong Approved cars will be available up to seven years old with mileages of up to 70,000. Similarly, the European AA cover can be increased up to 24 months if required.
It's also now easier than ever to find the ideal SsangYong Approved used car. The new SsangYong web site at ssangyonggb.co.uk will quickly find the right car using model, body style, age range, price range and distance from your location criteria.
With the SsangYong range of Kyron, Rexton and Rodius models starting at only £14,995, they already offer very high levels of equipment and technology combined with prices significantly lower than competitors. Now SsangYong Approved provides greater choice and reassurance. Whether new or used, SsangYong works for those looking for a well equipped, immensely practical vehicle who want value for money rather than paying the premium prices demanded by other brands. They are especially suitable for anyone with a regular or occasional need to tow a caravan, boat or horsebox and if you need to venture off the tarmac, SsangYong's four-wheel drive systems will let you do it with ease.
For the nearest dealership go to ssangyonggb.co.uk