SsangYong to unveil new C200 at Paris Show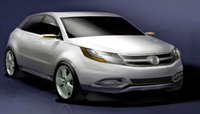 SsangYong will unveil a new compact passenger car concept at this year's Paris Motor Show, with a press conference on the stand at 08.15 on October 2 in hall 3.
The SsangYong C200 is an urban compact SUV and the first SsangYong to feature a front-wheel drive platform and monocoque construction (existing SsangYong models in the UK feature separate body/chassis construction). It marks a new milestone in SsangYong's mid- and long-term strategy to strengthen its line-up and increase customer choice.
The C200 uses a new six-speed manual transmission and a new 2,000cc diesel engine with 175 horsepower. Although this platform can also be used with a front-wheel drivetrain, the C200 employs SsangYong's intelligent cutting-edge, full-time four-wheel drive technology for optimal driving performance. It is environment-friendly, with low CO2 emissions, conforming with EURO V European exhaust emissions regulations.
The C200 will be introduced by SsangYong Motor CEO and president, Hyung-tak Choi.
Also present on the stand during press days (October 2 and 3) will be Paul Williams (managing director) and Ian Nicholson (finance and operations director) from UK SsangYong distributors, Koelliker UK Ltd.