SsangYong appoints three more dealers in South of England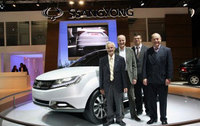 SsangYong distributor Koelliker UK Ltd (KUK) has appointed two new dealerships in Croydon and Farnham, Surrey, and a new service dealer in Andover. All three dealer principals were guests of SsangYong at this month's Paris Motor Show to see the new C200 concept car that signals the future direction for the South Korean manufacturer.
Kinghams in Croydon was founded in 1960 and SsangYong joins Daihatsu in the South End showroom. Kinghams is also a SEAT and Alfa Romeo service dealership. Dealer principal Keith Kingham said: "We used to sell the Daihatsu Fourtrak very successfully and we wanted something similar. We know that there are customers who want a car like that to do a job of work, and they want value rather than a premium-priced badge; SsangYong works very well in that respect and fills a gap in our showroom and in our local market."
Barry Wiltshire, sales director of Wiltshire and Sons in Farnham, Surrey said: "We were looking for new products and a franchise that would add value and complement what we already had, and in the first week of having SsangYong, we sold four new vehicles – in the middle of the credit crunch and financial mayhem."
Wiltshire and Sons is an established SEAT dealership and has been in business since 1974.
E. W. Pinchbeck and Sons, family-owned and run since 1962, is also a SEAT dealership with premises in Middle Wallop and Andover, Hampshire. "At the moment, we have taken on SsangYong as a service dealer in Andover," said Eddie Pinchbeck. "We're in the middle of farming country, and while there will always be some people who want a car for status reasons, most people round here want value and ability. SsangYong is adding value to our business and we hope to develop a healthy relationship with the importers."
David Foster, KUK dealer development manager said: "These new dealers take the revised SsangYong network to 33. They have exactly the right can-do attitude to succeed in these tough times and are well established in their respective areas. They are open to new ways of doing things, and they look after their customers very well."
The SsangYong range
The SsangYong range of Kyron, Rexton and Rodius models appeal to those looking for a well equipped, immensely practical vehicle who want value for money rather than paying the premium prices demanded by other brands. They are especially suitable for anyone with a regular or occasional need to tow a caravan, boat, horsebox or trailer of any kind, and if you need to venture off the Tarmac, SsangYong's four-wheel drive systems will let you do it with ease.
The range starts at just £14,995. There are six SsangYong Kyron models with a choice of 2.0 and 2.7 litre, turbocharged common rail diesel engines, with two or four-wheel drive and manual or automatic transmissions. The Kyron represents a considerable saving over its competitors such as the Kia Sorento, Hyundai Santa Fe and Chevrolet Captiva.
All three SsangYong Rexton models (from £19,995) have all-wheel drive and the 2.7 litre common rail turbo diesel engine for big towing capacity and off-road capability. The Rexton squares up against the Mitsubishi Shogun, Land Rover Discovery and Jeep Cherokee and whichever way you look at it, offers great value and performance with huge advantages over the competition.
For serious people carrying capacity, SsangYong's Rodius models come in 2wd and 4wd – all with the 2.7 litre turbo diesel – and with automatic transmission as an option.
A full seven-seater with ample luggage space, the Rodius 270 S easily undercuts the Kia Sedona and starts at only £14,995. All Rodius models use the 2.7 litre with 165PS and massive torque. Even a vehicle this big can achieve up to 35.8mpg.
The very latest SsangYongs are light commercial versions of the Kyron and Rexton. Kyron and Rexton S-C models have the rear seats removed, blacked-out windows and a flat load floor installed. They offer massive load space and towing capacity with all the equipment and driving refinement of a passenger car. Starting at only £11,999 (excluding delivery and first registration charges, and VAT) the S-C models can also be fitted with a tachograph.
For more information, visit ssangyonggb.co.uk