Learn to photograph & draw cars at the Heritage Motor Centre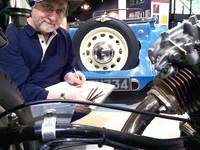 The Heritage Motor Centre is to host two creative workshops for those wanting to develop skills in motoring photography and automotive drawing.
'Cars through the Lens' will take place on Saturday 4 October from 10am – 4pm with motoring photographer Lara Platman. Participants will learn when and how to use different settings on their camera to create stunning photographs of cars. Topics covered will include how to control light and composition, the rule of thirds and perfect angles and how to make photography fun with a few simple rules. Lara will help participants advance their skills in taking photographs of reflections, interiors, panoramic and detail. The afternoon session will be testing skills learnt in the morning by focusing on one car in a studio setting to achieve the best composition and lighting. The cost is £35 per person and includes morning coffee and entry to the Museum. Participants will require a camera, fully charged battery, empty memory card and USB stick.
'Drawing from Automotive History' will take place on Saturday 13 October from 10:15am – 3:45pm with Richard Cook, an art teacher and accomplished pencil sketcher. The day is designed to suit pencil sketchers of varied abilities from beginner to competent amateur. The course will cover basic drawing hints and tips, rules of composition, finding a new angle, drawing metal and painted textures such as polished and matt surfaces and individual tuition and pointers designed to improve your drawing. The cost is £35 per person. Participants will require 4/5 pencils, ideally H through to 6B or 9B, erasers, 8gsm sketch pad and thin paper to cover drawings.
Emma Rawlinson, Family and Lifelong Learning Officer at the Heritage Motor Centre stated "We're delighted to offer these two fascinating workshops to enable participants to learn valuable skills in capturing that perfect photograph or creating a stunning pencil drawing".
To find out more information visit the website at heritage-motor-centre.co.uk.