Brits flock to retro seaside resorts as Indian summer rolls on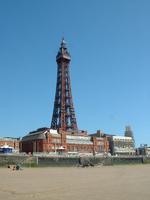 According to new figures, Expedia.co.uk is seeing a huge increase in bookings for traditional seaside resorts in the UK, as the hot weather continues into September.
Retro holiday spots such as Eastbourne and Scarborough have enjoyed a resurgence in popularity with Expedia.co.uk seeing bookings increase vs last year by 112%, and 109% respectively for September and October dates. Yet, it's the northern seaside favourite of Blackpool that remains top of the pile as the most popular beach destination for September and October, ahead of southern holiday towns, Brighton and Bournemouth. This classic British resort has also seen strong growth with a 76% increase in bookings compared to the same period last year.
Andy Washington, Managing Director Expedia UK and Ireland commented: "After the curse of ten wet weekends in a row throughout July and August, September has seen the UK enjoy an unseasonably long stretch of warm weather and with this, a desire to make the most of our great British seaside. Usually this time of year sees a shift away from beach to city-break destinations, but this year UK beach destinations like Blackpool are still amongst the top 10 UK cities booked on Expedia.co.uk. As the warm weather looks set to continue past Bonfire Night in early November, there's still plenty of time for everyone to plan a UK seaside getaway before the cold weather returns."
Top 10 overall UK beach destinations for September and October
1. Blackpool
2. Brighton
3. Bournemouth
4. St. Helier
5. Southampton
6. Eastbourne
7. Plymouth
8. Scarborough
9. Torquay
10. Exeter
In addition to increases in travel to mainland destinations: Brighton, Blackpool and Bournemouth, Expedia.co.uk has seen St. Helier, Jersey enjoy a 43% increase in bookings made for September and October 2014 and is ranked number four on the top ten list for most popular UK beachside destinations overall for September and October 2014.
For more great British breaks during the continuing warm weather, visit expedia.co.uk/uk-ireland-holidays