SsangYong Rexton C-S awarded 'Best 4x4 Van'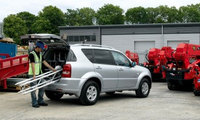 The SsangYong Rexton C-S, the light commercial version of the Rexton 270 S passenger car, has been judged 'Best 4x4 Van' by 4x4 Magazine, Britain's leading all-makes 4x4 publication.
In its annual Commercial 4x4 of the Year Review, the magazine's citation for the Rexton C-S said:
Cargo-carrying with all-terrain capability is a key area for many commercial operations, with 4x4 van conversions becoming more and more commonplace in the UK. Very competitively priced, the Ssangyong Rexton has a prodigious 2.3 cu. m. load volume and low range gearing to get the payload where it needs to be with a minimum of fuss. More refined than it once was, the comfortable, no-nonsense Rexton van is a great delivery tool, with a torquey 2.7-litre turbodiesel capable of a towing 3200kg. All that for under £16k.
The Rexton C-S beat the Mitsubishi Shogun Commercial SWB into second place. 4x4 Magazine's verdict follows the SsangYong Kyron C-S being 'Highly Commended' in the What Van? Awards 2008.
4x4 Magazine's annual commercial awards recognise excellence in various categories. It points out that commercial use of 4x4 vehicles is growing and diversifying in the UK, with many industries relying on their functionality and versatility in the tough working environment. From building sites to forestry tracks, from all-weather delivery to golf course maintenance, quality utility vehicles are a vital component of the 4x4 industry.
SsangYong's light commercials are based on the Kyron and Rexton S passenger SUV cars, and converted in the UK with the removal of the rear seats to provide a flat load area, and black tinted rear windows. Both have four-wheel drive, with the Kyron C-S priced at £13,995 and the Rexton C-S at £15,995 (excluding delivery and first registration charges, and VAT).
The Kyron C-S has a payload of 530 kgand a mighty cargo volume of 2,384 litres. The Rexton C-S has a volume of 2,186 litresand an even bigger payload of 740 kg. A Mercedes T-Tronic auto transmission is an option on both models and SsangYong also has a tachograph fitting kit available for both models – something that isn't available from some competitors.
Commercial users are likely to welcome the electronic stability programme (ESP) with active rollover protection (ARP), and hill descent control (HDC) when working in slippery off-road sites. ABS brakes with electronic brake distribution are standard, along with electric windows and door mirrors. The front screen is also heated while the crew can relax with the auto climate control. A six-speaker Kenwood CD player and RDS radio has steering wheel controls.
The Rexton C-S provides plenty of punch with a five cylinder, turbo common rail diesel engine pushing out 165 PS at 4,000rpm and with torque of 340 Nm at 2,400rpm. A five-speed 'torque on demand' (TOD) manual transmission normally supplies most power to the rear wheels, but if things get slippery, the system automatically and smoothly distributes power to the axle with the most grip.
There's easy access to the cargo area of course, through the rear doors and the rear tailgate. There are three 12 volt DC outlets.
The Rexton C-S has a gross vehicle weight of 2,760 kg. Extra urban fuel consumption of the passenger version is 37.7mpg.
Like SsangYong's passenger cars, the C-S models have a three year/60,000 mile warranty. Costs of ownership were slashed last year with the introduction of very competitive menu servicing and an average 40 per cent reduction in parts prices. For your nearest dealer, visit ssangyonggb.co.uk