The McLaren 625C: The first regionally tailored McLaren model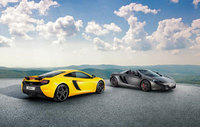 As McLaren continues to grow its presence globally, the British sportscar maker has announced plans for its first regionally tailored model aimed at the Asian market. The new McLaren 625C offers the greatest level of refinement of any McLaren model to date, combined with the optimised driving dynamics all McLarens are famous for.
The Asian market has seen the biggest area of growth for McLaren Automotive over the past two years, not least with the entry into China in September 2013. Sales are set to grow from 20 percent in 2013 to more than a third in 2014.
The McLaren 625C is being launched in response to customer demand in the Asian region, sharing the visual drama of the 650S, but with an increased focus on day-to-day usability and comfort. Through revisions to the groundbreaking ProActive Chassis Control and the suspension hardware, the driving dynamics and ride quality are further optimised. The end result is another no-compromise sportscar, offering class-defining levels of performance and quality, and taking refinement to a new level.
The name of the 625C refers to the power output of the highly efficient derivative of the 3.8-litre twin turbo V8 powerplant – 625PS (616bhp). 'C' stands for 'Club', highlighting a more accessible and less extreme model in terms of character. However, the McLaren 625C enjoys a number of the technical advances already debuted on the McLaren 650S.
With a power output of 625PS (616 bhp), enhancements have been made to driveability and efficiency with engine torque of 610Nm (450 lb ft). Acceleration from zero to 100 km/h (62 mph) takes just 3.1 seconds, while 200 km/h (124 mph) is reached in 8.8 seconds for the Coupé. Despite the lower power of the 625C, maximum speed mirrors that of the 650S, at 333 km/h (207mph) [329 km/h (204 mph) for Spider], and CO2 emissions remain the same, at 275 g/km.
New dampers and revised mechanical balance give the McLaren 625C the most refined ride of any McLaren model to date. The bespoke set up, with a less stiff spring rate at the rear, ensure a sharp response with no loss in ride comfort through the ProActive Chassis Control system in 'Normal' mode, without any compromise to handling or performance in 'Sport' and 'Track' modes, offering.
The new McLaren 625C will initially be launched in Hong Kong, with Coupe and Spider bodystyles both immediately available. Selected other markets across the Asia Pacific region will be announced in the coming months.