Christmas cheers at the UK's wine hotel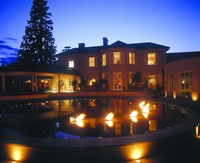 Where better to say cheers during the festive season than at the UK's wine hotel? Home to over 30,000 bottles of wine, The Vineyard in Berkshire puts the sparkle into all things Christmas. The spacious 49 bedrooms and suites are all inviting havens within a hotel which is also home to a boutique spa and indoor swimming pool; all perfect as the chilly winter weather sets in.
Christmas Getaway Break (24th-26th December)
Escape to The Vineyard for Christmas Eve, Christmas Day and Boxing Day. The two night break includes a wine masterclass followed by a four course dinner on Christmas Eve. Then after breakfast, Christmas Day includes a five course lunch and a buffet dinner. Boxing Day includes lunch. Throughout the stay guests can enjoy the award winning spa with an indoor swimming pool. The two night break is priced from £675.00 per person based on two sharing.
Chill Out & Revive (Throughout December - excluding 24th, 25th, 30th & 31st December)
A pre Christmas break may be needed for those who are exhausted by all the Christmas shopping or it can be an ideal time to relax away from it all before the Christmas events kick off. A one night break throughout December includes a 25 minute spa treatment, use of spa facilities, a five course dinner and breakfast the next day. Priced from £245.00 per person based on two sharing.
New Year's Eve Break (30th December - 1st January)
The Vineyard has a drink to suit all tastes including a wide selection of Champagnes and sparkling wines - perfect to welcome in 2015. A New Year's two night break includes a four course dinner on 30th, afternoon tea followed by a Champagne masterclass on New Year's Eve and a stunning six course dinner with matching wines and entertainment towards the countdown to 1st January. Breakfast and full use of the spa facilities are also included. Priced from £675.00 per person based on two sharing.
Taittinger Discovery Dinner (Friday 5th December)
With corks popping louder than at any other time of the year, The Vineyard are hosting a unique four course dinner showcasing a variety of Taittinger Champagnes styles and vintages. The event is priced £120.00 per person. Accommodation is also available priced from £235.00 based on two sharing including breakfast.
Wine Themed Gifts
For a gift that retains interest for a little longer than Christmas morning, The Vineyard offer a selection of wine themed experiences. Cases of Californian wines from £110.00, Food and Wine Matching dinners and stays from £125.00 per person, Wine School events from £30.00 per person and WSET Courses from £150.00 per person. For a group, Private Wine Tasting experiences can be purchased from £180.00 for 6 people. Spa Days and Spa Treatments are also available to purchase as gifts.
Gastronomes who visit The Vineyard won't be disappointed, award-winning head chef Daniel Galmiche has devised all the menus showcasing his love of authentic French/Mediterranean cooking. He uses locally sourced produce from sustainable stocks and Christmas is one of his favourite times of the year in the kitchen.
Raise a cheer this festive season at the UK's wine hotel.
For more information, visit the-vineyard.co.uk.