New Austrian mountain fitness holiday for women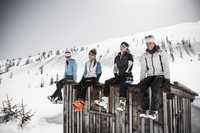 Whether you've signed up for the Snowdonia Marathon this month or put your name down for November's Peak Raid series, this sweat-inducing Austrian alpine escape is guaranteed to inspire and condition in equal measures.
During St Martin Chalets' new 3-night Mountain Ladies of Lungau fitness escape you will contour the peaks, valleys and trails of Austria's newest UNESCO Biosphere Reserve alongside some particularly fit locals.
The Southern Alpine region of Lungau is your destination, staying in one of St Martin Chalets' authentic Austrian chalets, each day joined by St Martin's Power Princesseswho will encourage, guide and motivate you during a mix of alpine sporting endeavors, including trail running, summit walks, mountain biking and rock climbing. All five ladies live for the outdoors and boast plenty of credentials, from trained mountain guides, skiing instructors and biosphere rangers to accomplished mountaineers, climbers, ski racers and cyclists. No need to be intimidated though…they're up for plenty of fun too so you can take it as hard or as gentle as you like each day.
Package specifics:
Who is it for?
We've obviously had a lot of interest from female guests and groups but actively encourage male guests to pit their skills and fitness against the PPs!
Location: St Martin Chalets are located 1.5hrs directly south of Salzburg airport (map)
Duration: 4 days and 3 nights
When: May to end of October only (subject to availability). Bespoke winter itineraries available.
Price: €450 (approx £360) per person - flights, meals and car hire not included, except where stated. Prices based on min of 6 people sharing.
Flights: Flights depart London and the UK for Salzburg Airport from multiple departure points, from as low as £45 one way.
The Ladies: all have different skills and talents to offer – you can meet them by visiting this page and scrolling down holidaystoaustria.com/ladies-of-lungau
The 3 night trips are bespoke, with no set departure date, and start from £360 per person based on 6 people sharing a chalet and are available through until 31st October 2014 (bespoke winter itineraries available - contact St Martin Chalets with requirements) then May 2015 onwards. Price includes Chalet accommodation, return airport shuttle transfer, all activities and guiding plus equipment hire (bikes, rucksacks, helmets, climbing harnesses and poles), use of private gym & sauna, daily Chalet breakfast, a stocked fridge and a traditional Austrian Chalet supper plus dinner in a local castle. Flights from the UK to Salzburg are extra.
Here's the itinerary outline
Austrian Mountain Fitness Day 1:
Fly into Salzburg before grabbing the Airport Shuttle to St Martin chalets
Austrian Mountain fitness holiday - St Martin Chalets Lungau You'll then get to know the girls over a few cold Austrian beers and a traditional Austrian 'Jause', which is a fantastic dish packed full of delicious cuts of cured meats and local produce – the perfect way to kick off your stay! Of course, if you're vegetarian, we'll create some deliciuous dishes too. Depending on flight times this can be either before or after the run
17:00: Acclimatising 5km trail run along amazing trails and through beautiful mountain-scapes
19:00: Evening walk into downtown St Michael for some more authentic Austrian food that'll really hit the spot (believe us, the Austrian's can cook!)
Austrian Mountain Fitness Day 2:
08:00 Chalet breakfast (DIY fresh rolls delivered and fridge re-filled daily).
Take your pick from these activities…..
09:30: Mountain biking (e-bike optional) 3-4 hours at altitudes between 1000m & Mountain biking Austria1900m. Let our super fit guides lead you through the ups and downs of Lungau's fantastic scenery. The girls are all keen mountain bikers but if you're looking for something a bit more extreme, Isabella is our fearless speed junkie and is known by the locals as Lungau's downhill lady!
10:00: Climbing (rock or wall depending on weather). The five of us regularly head out into the mountains and do a climb together and we know some excellent lines for people of all abilities. Nina is probably our best climber (well she is the youngest – she should be!) – she climbs three times-a-week both on the climbing wall and doing the real thing, and she's super-strong.
16:00: Evening trail run ca. 10Km (with hills!) – optional/if you're up for it! Living in the mountains keeps you lean and fit (which means you can eat cakes and pastries without feeling guilty. Yay!) and there's nothing like ending the day with a jog. Lungau is becoming known as a centre for what's called 'preventive medicine', which basically means you avoid getting ill in the first place by eating well and staying fit and strong. Kerstin is our 'gazelle' and has perfect calves to motivate you to keep going!
19:00: Catered chalet supper. Don't tell anyone but we've done a deal with the owners of the only Michelin Star restaurant in the region. They provide our chalet catering, but don't worry, they reserve the 'pretty mini portions' for their restaurant – we get served up mountain-sized portions of delicious local dishes. It's pretty darned good!
Austrian Mountain Fitness Day 3:
06:00: Breakfast roll delivery (pack your rucksacks with sarnies)
8:00: Summit climb – reach the heavens at 2700 above sea-level. Depending on how fast you are, two of the girls will whip you into shape over a 5 to 6-hour mountain hike over Alpine terrain. We'll even hold your hand when it gets a bit precarious!
Lunch on the mountain
5:00: Free time – use of Gym/Sauna.
19:00: Evening: Supper in the medieval castle, Burg Mauterndorf
Austrian Mountain Fitness Day 4:
07:30: Chalet breakfast before Airport shuttle