Finnish Lapland introduces 'locals on call'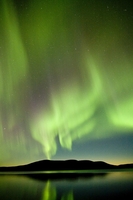 For the upcoming winter, 16 locals from each area of Finnish Lapland will be 'on call' to those considering or those having booked a holiday to the area.
The 16 locals will be reachable through onlyinlapland.com/meetthelocals/ where they have shared their tips, facts and basic information of their area of Lapland. As well as these local gems, the locals will be contactable via email, Skype, WhatsApp or Facebook for specific questions and queries.
Examples of these locals are Anssi Kiiskinen from Pyhä in central Lapland who is an expert in reindeer herding and fishing; Maaret Mattus from Inari-Saariselkä in northern Lapland who is knowledgable in hiking and camping and Sari Kumpuniemi from Ruka in eastern Finland who is the best local to speak to about skiing and ski instruction.
One of the locals, Henri Anundi from the capital of Finnish Lapland, Rovaniemi, was born and raised in Lapland and is passionate about his homeland:
"I look forward to getting to know new people and telling everyone how amazing Finnish Lapland really is. I plan on sharing my knowledge and giving practical advice on how to experience the nature of Lapland in peaceful silence or with high speed. I will be waiting to hear from you on Twitter or on Facebook".
Hanna-Mari Talvensaari, the marketing director for Lapland - the North of Finland campaign comments; "Who has better knowledge of the Lappish winter than the locals? This winter visitors to Lapland will benefit from direct contact with native Laplanders to get the most authentic experience and a taste of real life in Lapland. We have a helpful and versatile group of locals who have the best insider knowledge waiting to meet you."
For details on contacting the locals visit: onlyinlapland.com/meetthelocals/