New to do in Helsinki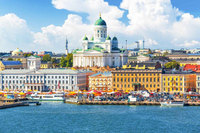 Dynamic and cosmopolitan Helsinki has seen some exciting new developments in 2014, raising the capital city's global profile as a hub for culture, art, heritage and gastronomy. Some of the city's most popular cultural sites have received makeovers and new attractions have been popping up all over the city.
Visit Finland reviews the highlights of the city's latest openings and changes.
Finnair Sky Wheel
One of the most noticeable new features in Helsinki, the Finnair Sky Wheel opened at the beginning of June on a pier next to Helsinki's Market Square. The giant ferris wheel, rising 40m above the city, offers passengers a birds-eye view of Helsinki's coastal skyline and is an effective way of taking in all of the capital's landmarks in one go.
The wheel is open every day from 10am until 8pm (Sun-Mon), 10pm (Tues-Thurs) and 11pm (Fri-Sat).
Tickets: Adults 12€; Children 9€; Toddlers (up to two years) Free. For more information, visit finnair-skywheel.com/en
Lonna Island
Former military island, Lonna, sits in Helsinki harbour and opened to the public for the first time in May 2014. The island is just 150m long and is currently home to a café and restaurant, while plans are in place to build a playground, a public sauna and seminar rooms by 2016. For 17€ per person, visitors can get a picnic basket from Lonna's café and indulge in a typical Finnish maritime picnic while enjoying views looking back to Helsinki's Market Square and over the harbour towards the fortress island, Suomenlinna. In its long history, the island has had various military uses, including a Russian Navy mine store in the 1880s, a base for clearing mines in the 1920s and in the post-war period ships were demagnetised on Lonna.
Lonna Island is open to visitors between May and September and is a ten minute boat ride from Helsinki's Market Square. Visitors take the waterbus that continues on to Suomenlinna with departures approximately every hour until 21 September 2014.
Waterbus return fares: Adults 7€; Children (seven-16 years) 3.50€. For more information, visit visithelsinki.fi/en/see-and-experience/sights-and-attractions/new-recreational-island-lonna
The Abattoir (Teurastamo)
The Abattoir (or Teurastamo in Finnish) is Helsinki's dynamic ever-changing food quarter; housing restaurants, food shops, a barbecue area, cookery school and a public sauna. Sitting on the site of Helsinki's original abattoir built in 1933, the space has been used as a wholesale market in more recent years and is now undergoing long-term development to encourage the general public to enjoy urban food culture within the wholesale bustle. The ultimate aim is to make everything in the Abattoir area edible; for example, the trees and other plants in the yard are being replaced by fruit trees and other crop-yielding plants. The central courtyard and open-air market is a dynamic space hosting weekly food-related events such as farmers markets, night markets and street food festivals.
The Abattoir is situated between the districts of Kalasatama and Sörnainen (Closest Metro station is Kalasatama)
Opening hours for the most part are 11am to 8pm (weekdays) and 10am to 6pm (Saturdays). For more information, visit teurastamo.com/en/
The Old Market Hall (Vanha Kauppahalli)
After a five month renovation, Helsinki's Old Market Hall in Market Square reopened in June 2014, reinstating all of its veteran vendors as well as welcoming some new exciting stalls to the refurbished indoor market. The grand building has been a meeting place for Helsinki's food-lovers and a popular tourist spot since merchants arrived there in 1889 and offers all sorts of delicious provisions from cheese, fish, vegetables and cakes to spices, coffee and tea. The new vendors bring a taste of wild Finland to the hall, with Annan Villiliha's full-service meat market offering wild game and other meats and Finland's leading organic meat producer, Pajuniemi, setting up in the hall for the first time. Thirsty browsers can now stop by Mari's Smoothie bar, where ingredients include Finnish dried mushrooms, herbs and fresh berries. The hall's international flavour has grown with new German and Spanish café-shops. One of the biggest developments in the central section of the hall is Nordic café and restaurant Story, where visitors can enjoy the buzz of the hall late into the evening from its terrace.
Old Market Hall is open 8am – 6pm (Mon-Sat) and is closed on Sunday. Story and its terrace are open until 10pm on Fridays and Saturdays. For more information, visit vanhakauppahalli.fi/en/
Tove Jansson Park
To celebrate the centenary of the birth of Tove Jansson on 9th August 2014, a park in Helsinki has been renamed after the famous Finnish author and artist, best known as creator of The Moomins. Formerly Katajanokka Park, Tove Jansson Park is in the neighbourhood of Katajanokka, adjacent to downtown Helsinki, located next to Tove's childhood home at Luotsikatu and was the park where she played as a little girl. A bird cherry tree, planted during the opening ceremony with Moomin characters and a choir, commemorates the author and represents the cherry blossom that she describes in her 1968 childhood memoir Sculptor's Daughter.
Santa Claus World at Linnanmaki Amusement Park
If Lapland is a little too far to reach on a break to Finland, visitors can meet Finland's most famous resident at the new Santa Claus World at Linnanmaki Amusement Park during the park's summer season until October and during pre-reserved times outside of its season. Accompanied by Santa's elves, visitors are led through a fairy-tale Lappish setting, complete with the northern lights and illustrating Santa's Christmas story, before meeting the main man himself at his cottage. The Santa Claus World shop has a selection of Christmas-themed products, as well as a special postal service that sends cards marked with a special Santa Claus World Linnanmaki stamp.
Linnanmaki Amusement Park is located in the Alppiharju district of Helsinki. (Closest tram stop is Linnanmaki/Borgbacken on tram line three.)
Entrance to Santa Claus World: 5€ per person; Free for children under three years.
Opening hours vary. See linnanmaki.fi/suunnittele/aukioloajat
For more information, visit linnanmaki.fi/en/santa-claus-world and santaclausworld.com/en/santaclausworld/