5 reasons to hold your next special occasion in Paris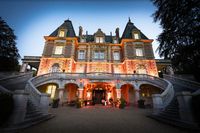 You probably don't need to be reminded that Paris is one of the world's most visited destinations – indeed, according to The Local, more than 30 million foreigners continue to drop into the French capital each year.
However, there might remain a certain persistent sense among some people contemplating holding their next engagement party, birthday celebration or similar big bash in Paris, that the city is almost too obvious a choice.
In truth, though, Paris probably comes closer than any other city on Earth to genuinely representing all things to all people. So, here are just five reasons why you shouldn't look past the City of Lights when you are determining which place should host your upcoming special event.
Paris is still surprisingly undiscovered
This may seem one of the most ludicrous statements that one could make. However, in much the same way as London is by no means solely about the Tower of London or Buckingham Palace, so there's a lot more to unearth about Paris than the Eiffel Tower and the Champs-Élysées.
The Atlas Obscura site backs this up with its rundown of no fewer than 135 'hidden' Paris attractions. It all means that your experiences when hosting your next special occasion here could be rather more varied and surprising than you might anticipate.
This is a place that knows how to party
There's just something so magical and inimitable about the distinctively quirky, yet elegant manner in which Paris celebrates – and one can barely deny that the city is well-practised in the art.
As explained by the official website of the Paris Convention and Visitors Bureau, there always seems to be some kind of festival or celebration going on in the City of Lights. It all makes for an utterly intoxicating, fun-loving and – obviously – romantic backdrop for your own special occasion here.
The charms of Paris aren't even restricted to Paris
With France having retained its crown as the world's most visited country in 2017 – attracting some 89 million visitors – it's important not to overlook the continued wealth of attractions and activities that the wider nation, one of the most complex and intriguing on the planet, serves up.
This extends to the range of special occasion venues from which one can choose. For the best of urban and rural Paris in your chosen venue, for instance, why not consider the noble stone-built Château Bouffémont?
With its combination of spectacular manicured French gardens, splendid interior decor and a highly advantageous location – in the heart of the beautiful Montmorency Forest, but also just 30 kilometres away from the centre of Paris – this unique luxury venue overshadows even many of the more prestigious special occasion locations in Paris itself.
You won't be lost for things to do away from the party
Whether you head to the most obvious touristic staples such as the Arc de Triomphe or Notre-Dame Cathedral, get up close and personal with Édouard Manet's Olympia at the Musée d'Orsay or take in the ghoulish Catacombs, even once your special event draws to a close, you will find yourself endlessly stimulated, inspired and charmed during the rest of your stay in Paris.
There's no finer epicentre of special-event cuisine
There will almost certainly be a dining element of your special occasion – all the more so because this is, after all, Paris, with all manner of urban and multicultural delights, but also a surprisingly wide range of delicacies that are more traditionally and closely associated with the City of Lights.
Why not take the opportunity to sample Le Paris-Brest, for example, which is shaped like a wheel and consists of delicious pastry stuffed with praline cream, and finally garnished with flaked almonds? It was created in 1910, inspired – as you might have guessed – by the famous Paris–Brest–Paris bicycle race.
The above are far from the only reasons to begin comparing special event venues in Paris. Nonetheless, they should go some way to illustrating to you why the French capital remains such a profoundly popular location for all manner of remarkable and important celebrations – potentially including your own.