New thinking in car buying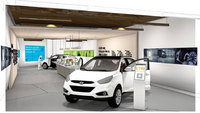 Automotive retailing is evolving and customer expectations are changing. Today, customers visit a car dealership just 1.3 times before purchase. Driven by the rise in internet usage and the rise of smart phones and tablets, 93% of all new car buyers conduct research online and now only visit the dealership when they wish to sign on the dotted line.
Against the backdrop of this sweeping trend, Hyundai and Rockar today announced the launch in early November 2014 of an innovative and seamless car retail proposition – Rockar Hyundai. This will integrate in-store, online and mobile platforms to deliver a car shopping experience unlike any other, designed to suit some of today's consumers.
Rockar Hyundai – the first business of its kind in the Automotive Industry – will provide consumers with an all-encompassing online and in-store service that will allow them to research, test-drive, get a price for their old car, choose a payment option, purchase and service their new car all at the touch of a button without ever having to speak to a sales person if they wish. It has been designed to offer a flexible and convenient way to buy and own a car which fits in with their lifestyles.
The digital store will be located at Bluewater, Europe's leading retail, leisure and entertainment destination. Bluewater has a footfall of 27 million per annum and serves one of the largest and most affluent catchments in the UK – 6.5 million people with an available spend of £13 billion.
Tony Whitehorn, President and CEO, Hyundai Motor UK, commented: "I am delighted to be able to announce today the launch of Rockar Hyundai in early November 2014. Rockar Hyundai is a highly innovative and enticing addition to our existing Dealer Network. It offers the consumers an easy and flexible alternative to buying and owning a car without undermining the strength and infrastructure within our existing sales network. It is unprecedented in the UK Automotive Industry and is the shape of things to come.
"Hyundai UK is developing a more integrated approach towards the way we retail cars, reflecting the changing ways in which people shop and the use of technology in the retail environment. Rockar Hyundai is an integral part of this, and to our continuous commitment to delivering an outstanding customer experience across our entire business."
Simon Dixon, Founder of Rockar.com, said: "I have been working with a dedicated team on this exciting customer proposition for the last two years. It has been driven, not only by our automotive retail experience, but by extensive customer research and a deep understanding of the evolving retail environment. It is clear from research that customers buying a new car can find it an intimidating process. Rockar's vision is simple – to ensure that the Customer is truly at its heart and feels empowered throughout the process. I am delighted that Hyundai and Bluewater have had the foresight to partner with Rockar on this exciting retail journey."
Russell Loveland, Portfolio Director at Land Securites, added: "The key drivers of Bluewater's success are evolution, innovation and experience. This exciting new digital store from Rockar Hyundai exemplifies these themes to create something quite unique. The selection of Bluewater for such a ground-breaking idea highlights its position at the forefront of the industry."
For more information, log on to: rockar.com.