Travel interest to Venice increases by 39%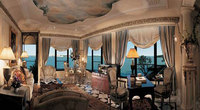 Travel interest to Venice has increased by 39 per cent following George Clooney's marriage to Amal Alamuddin, according to hotel search website trivago.co.uk.
On the day that George Clooney wed Amal Alamuddin in a civil service ceremony, hotel searches made by UK users increased by 39 per cent in comparison to the previous week. Searches made on Monday 29th September for a hotel stay during October and November were compared to searches made on Monday 22nd September.
The four day wedding celebrations began on Friday afternoon, welcoming family and celebrities to the Italian city. Although no increase in travel interest was recorded on Friday 26th, hotel searches began to increase the following day. On Saturday 27th, searches increased by 6 per cent in comparison to Saturday 20th September. This increased to 30 per cent on Sunday 28th and 39 per cent on Monday 29th, in comparison to Sunday 21st and Monday 22nd September, respectively.
Overall, travel interest increased by an average of 27 per cent over the past three days (27th to 29th), in comparison to the same time period during the previous week (20th to 22nd). All searches were for a hotel stay between 1st October and 30th November.
Denise Bartlett, UK Public Relations: "Celebrity visits often cause an increase in travel interest, as the destination is pictured in a favourable light by the media. For example, Prince William's recent visit to Malta sparked a 71 per cent increase in hotel searches. As media coverage of George and Amal's wedding peaked on Monday, it is of little surprise that travel interest increased most significantly on this day. As a typically romantic destination, Venice is the perfect location for a celebrity wedding. However, as one of Europe's most expensive destinations, UK travellers must be prepared to pay a significant amount for their hotel stay. An overnight stay in Venice cost an average of £218 during September 2014."