Experience some of the most outstanding olive oils in the world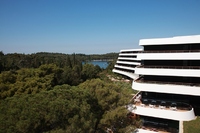 Hotel Lone, Croatia's only member of Design Hotels, has created a special Chiavalon Olive Oil package for guests to experience and learn about one of the region's most sought after culinary delicacies, extra-virgin olive oil, which is recognised amongst the best in the world.
Olive Oil production in the region of Istria, the world's northernmost olive tree growing area, has a long tradition, highly valued even in the time of the Roman Empire. Hotel Lone's special package will offer guests the opportunity to take a guided tour of one of the region's most famous autonomous olive oil producers at the Chiavalon olive orchard, located just a short drive from the five-star hotel. Guests will explore the tradition of olive oil production in Istria and discern the characteristics of the award winning olive oils it produces.
Guests will also enjoy an expert-guided tasting of their extra-virgin olive oil in the orchards' olive oil tastery and a presentation on olive cultivation in Istria and the Vodnjan region by Sandi Chiavalon himself. Sandi is recognised as one of the youngest and one of the best olive oil producers in Croatia.
Istrian extra virgin olive oil is of the highest quality and so therefore only produced in small quantities. It is not readily available outside of Croatia so the package is an authentic experience not to be missed by any food connoisseur or aspiring gourmet. Istria prides itself on being the gastronomic Capital of Croatia with other local delicacies including award-winning wines and fresh truffles.
The Chiavalon Olive Oil package is available until 15th December 2014, and includes minimum one night with breakfast for two people sharing a double room, a tour of the olive orchard, an expert-guided tasting in the olive oil tastery, short presentation on olive oil cultivation in the region, unlimited access to the hotel's Wellness & Spa centre and new beach club, as well as complimentary WiFi.
The price for two adults starts from €130 (£103).
For bookings, visit lonehotel.com/en/special_offers.