Set sail in style with all-inclusive luxury cruising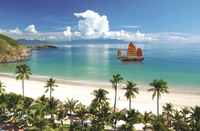 Vietnam's first five-star all-inclusive cruise launches in Nha Trang Bay - Fit for an Emperor.
The project was started in September 2014 and the first sailing is expected to be in the summer of 2015. The participants include Luxury Travel Ltd and the high-end cruise company, Huong Hai Ha Long Ltd.
One of the 29 most beautiful bays in the world, with miles of long, beautiful white-sand beaches and warm water, year-round green tropical islands and parks, rivers, typical fishing villages, special culinary characteristics and gorgeous seafood... Just some of the highlights of Nha Trang that appeal to seasoned holidaymakers.
Indeed Nha Trang Bay is a natural world of sparkling sea, marine life and islands waiting to be explored in style. Emperor Cruises (emperorcruises.com) combines oriental style with contemporary luxury. Together these create the perfect recipe for exploration, luxury adventures, enchantment, relaxation and memorable experiences.
The project will create jobs, boost the region's economy and help to position Nha Trang Bay as one of the world's luxury tourist destinations with smart international hotels and resorts such as the Intercontinental, Six Senses, Evason and Amanoi, and the Marriott and Hyatt coming soon to Long Beach.
According to the Department of Culture, Sports and Tourism in Khanh Hoa Province, in 2013, over 3 million domestic and foreign tourists enjoyed overnight stays and sightseeing in the beach resort of Nha Trang and the surrounding attractions in the province, an increase of 29% compared to 2012. Of these, nearly 712,000 were international tourist arrivals.
Nha Trang has been the top attraction for travelers for both domestic and international tourists for many years and is also popular with day visitors because of its delightful beach, considered the most beautiful beach in Vietnam, with deep blue sea and seemingly endless white sand.
Inspiration for Emperor Cruises came from the recreational activities of Emperor Bao Dai when he used to stay in his villas in Nha Trang. He took great pleasure in sailing in Nha Trang Bay to go fishing around the offshore islands. Almost a half century later, Emperor Cruises have recreated his vessel, using inspirational designs, and still fit for an emperor.
The Emperor Cruises fleet has a junk cruise boat (from February 2015 with a capacity of 32 passengers) fit for royalty for day cruises around Nha Trang Bay as well as sunset cocktails and dinner on board.
"Emperor Cruises (emperorcruises.com) will also launch overnight luxury cruises in June 2015 in world-famous Nha Trang Bay, accommodating 30 people in 15 en-suite cabins, the first in a total of five cruise ships in this particular project, with each one designed to be a sanctuary where every moment counts for our guests." said Bui Duc Long, Owner and Director of Emperor Cruises.
"With Emperor Cruises luxury doesn't mean there won't be adventure! You spend your time watching wildlife, scuba diving, snorkeling, boating, kayaking, embracing Mother Nature, and passing the time with your fellow passengers and crew."
The benefit of an ultra-luxury cruise with Emperor Cruises is that, apart from being small boats with personalized service and outstanding facilities on an all-inclusive basis, often there is no bill to pay at the end whether on a one-day or two-day cruise.
The cruise fleet will accommodate up to 150 guests in five unique boats within five years in the initial stage and then the joint-venture company will develop a fleet of 10 boats carrying from 300 to 500 passengers cruising the bay on a daily basis.
The project has chartered capital of VND250 billion and the project aims to promote Nha Trang and Vietnam as a luxury cruise destination.
For international tourists, Russia is the country that occupies first place in the number of visitors to Khanh Hoa Province with about 150,000, thanks to chartered direct flights and Vietnam Airlines' route straight from Moscow to Nha Trang.
With significant numbers of visitors from Australia, America, France, England and Germany, Vietnam expects to receive around 8 million tourists in 2014.