Explore Venice on a budget at design-led Generator Venice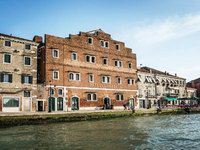 Generator Venice is part of the award-winning group of urban design hostels, located on the tranquil island of Giudecca. Situated in an old grain warehouse just a 10 minute water taxi from St Mark's Square, it is the perfect place to stay for a holiday that doesn't break the bank. The 36-room property is an ideal base for exploring the beautiful historic city. Generator Venice continues the brand's strict design principle of injecting new life into old buildings by recycling the urban fabric. This 'jewel box' hostel, encompasses 26,000 sq feet and 240 beds and incorporates a cornucopia of locally sourced antiques within the bar and lounge, such as an apothecary shelving unit and pantry table from the largest antique fair, the "Fiera de Palma", as well as other pieces hand-picked in Piazzolo sul Brenta near Verona.
The history of the Venice property adds a distinctive character to every stay. Upstairs, the original features of the building have been brought out to show the mystery and splendour of the city. Under supervision from the Fine Arts Committee, the handsome original timber beams, grand twin staircases, roof truss and the original stone columns have all been restored which add to the magical feeling of the space. Offering guests a mix of private rooms, penthouses and dorms, the pièce de résistance is the private attic room which boasts fantastic views of the city.
Private rooms from: €45
Beds from: €16.00
Address: Fondamenta Zitelle 86, 30133, Venezia, Italy
About Generator
Generator (generatorhostels.com) offers travellers central, safe and affordable accommodation. Its aim is to dispel the traditional perception of hostels by providing urban design hostels that are stylish and contemporary, central, safe and affordable. As Europe's fastest growing hostel brand and the only design-led hostel company with multiple locations, Generator currently now has eight properties in operation. These are located in Barcelona, Berlin, Copenhagen, Dublin, Hamburg, London and Venice, offering nearly 5,200 beds. Properties in Paris and Rome are due to launch in 2015.
Generator was acquired by its private equity backers, Patron Capital, in August 2007. Carl Michel joined as Executive Chairman in 2011 and together the Generator team is setting about transforming the hostel experience.
Generator is targeting a portfolio of 12-15 sites and 8,000 to 10,000 beds by 2015 as part of its aim to be the pre-eminent hospitality brand in Europe. Generator is looking to expand its urban design concept into North America and other markets. This calendar year Generator will achieve a new record for the group when it exceeds 1 million bed nights. Prices start from 10 euros / approx. £8 per bed per night, ensuring guests can enjoy contemporary design at affordable prices across Europe.