Disaronno Versace Sour cocktail available exclusively at The Rivoli Bar at The Ritz London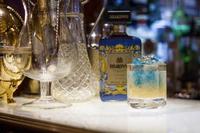 A cocktail created to mark an exclusive collaboration between Disaronno and Versace will be available exclusively at The Rivoli Bar at The Ritz London from Monday 20th October until Christmas 2014.
The Disaronno Versace Sour cocktail blends the unmistakable flavours of Disaronno with the sour notes of lime and bitter Vermouth, sparkling Prosecco and – in true Versace style – the bold blue colour of Curacao. The final result is a dramatic blue and gold cocktail garnished with real gold leaf.
This bold serve joins a list of elegant and creative cocktails for which The Rivoli Bar at The Ritz London is renowned.
This show-stopping cocktail was created by Disaronno Brand Ambassador, Rod Eslamieh, to honour the collaboration between two Italian legends: Disaronno, the world's favourite Italian liqueur, and one of the world's finest Italian fashion houses, Versace.
Augusto Reina, CEO of ILLVA Saronno commented on the creation of the cocktail: "The Disaronno wears Versace serve is the perfect way to tell the story of the collaboration; bold colours inspired by Versace's style coupled with the perfect balance of flavours that only one of the world's finest liqueurs can bring."
Marco Ercolano, Head Barman at The Rivoli Bar commented: "We are delighted to be working with Disaronno on this collaboration. Disaronno is a much loved brand by many of our customers and the Versace Sour is a stunning cocktail that will beautifully complement our list here at The Rivoli Bar at The Ritz London."
The bottle
The iconic Disaronno bottle has been given a glamorous look by Versace in time for Christmas 2014. The luxury fashion house has dressed the iconic bottle in the decadent style for which it has earned its reputation worldwide.
The Disaronno wears Versace design takes its inspiration from the Versace Home Collection. The striking bottle will be draped in light blue and embellished with an opulent white and gold motif. This stylish drinks cabinet addition is the perfect gift for all fashion lovers this winter.
The project supports the charity 'Fashion 4 Development,' sponsored by the United Nations. Disaronno, which expects to sell 1.5 million of the exclusive bottles globally, will once again donate part of the proceeds towards the development of this unique project in Africa.
The 'Disaronno Versace Sour' cocktail recipe:
25ml Disaronno
15ml Vermouth Bianco
15ml lime juice
Shake and pour over crushed ice
Top with a dash of Prosecco
Drizzle with Blue Curacao
disaronno.com
beoriginale.com
theritzlondon.com
facebook.com/#!/Disaronno