Dream homes in South Wales standing by and ready for Christmas move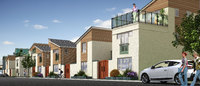 Homebuyers are being offered the chance to settle into a brand new home in South Wales in time for Christmas and schemes such as Help to Buy - Wales and part exchange are available from Barratt Homes for a hassle-free move.
"We know that people looking for a new home are keen to be settled for Christmas and we have a number of homes at developments across South Wales which will be ready in time for the festive season,'' said sales director Richard Lawson.
"With Christmas already approaching people perhaps think there isn't enough time to move into a new home, but I'd like to assure them that the process can be done in just a few weeks," added Richard.
Current availability includes homes in Swansea, Port Talbot, Newport, Barry, Pontypool and Caerwent and Richard said buyers can take advantage of a number of schemes currently on offer.
The Welsh-government backed scheme, Help to Buy - Wales, is helping those looking for a larger home make that move with just a 5% deposit.
The Help to Buy - Wales scheme means that you only need a 5% deposit to qualify for the best mortgage rates and then the government will lend you up to 20% of the value of your property through an equity loan so you need only a 75% mortgage.
Barratt is also offering its popular part exchange scheme in the region.
Part exchange removes all the uncertainty associated with a move. Barratt is a guaranteed cash buyer – so there is no chain, no last-minute price haggling and no hidden costs – and people can stay in their old property until their new home is ready.
"By reserving now, buyers can be settled in for the holiday period. And as our homes all come complete with energy efficient heating and high standards of insulation, they can look forward to a cosy Christmas and New Year."
For further information about homes in South Wales log onto barratthomes.co.uk.