All-new Mazda2 set for European launch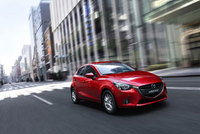 Clever, comfortable and confident: The all-new Mazda2 is heading for Europe, where its generous equipment and convention-challenging capabilities are set to take the B segment by storm. Mazda's next-generation supermini will make its European press debut at an exclusive driving event that gets under way at Mazda Space in Barcelona on 3 November. The five-door hatchback will also be the highlight of several national motor shows and other events in autumn and winter.
The all-new Mazda2 combines the complete range of SKYACTIV technology with a stunning KODO – Soul of Motion design very similar to the Mazda Hazumi concept unveiled in Geneva in March. It features the ingeniously intuitive interior concept first seen on the all-new Mazda3, including the Active Driving Display – the first head-up display in this class – and a human-machine interface specially adapted for the subcompact's cabin. With MZD Connect, the all-new Mazda2 is also one of the first B-segment models to bring occupants online in complete safety, meeting the demands of many of today's customers. The cabin itself, meanwhile, is surprisingly spacious and comfortable, particularly for the driver but also with top-class rear legroom.
Under the bonnet is one of four engines including the SKYACTIV-D 1.5-litre, a brand-new low compression clean diesel producing 77kW/105ps and maximum torque of 220Nm while using only 3.4l/100km of fuel for CO2 emissions of 89g/km*. The all-new Mazda2 will also be offered with the petrol-powered SKYACTIV-G 1.5-litre in three variants producing between 55kW/75ps and 85kW/115ps. They deliver fuel economy and CO2 emissions figures ranging from 4.5-4.9l/100km and 105-115g/km*. Power is transferred to the front wheels via five- and six-speed SKYACTIV-MT manual transmissions as well as a six-speed SKYACTIV-Drive automatic. All are newly developed compact, lightweight versions of the acclaimed gearboxes offered on other new-generation Mazdas.
The all-new supermini also gets the SKYACTIV-Chassis, and with it the widely praised linear sporty handling of its larger siblings for Mazda's patented Jinba Ittai oneness-with-the-car feeling. Optimised for the Mazda2's size, the upshot is remarkably smooth responsiveness to go with significantly advanced comfort and confidence-inspiring stability that is unusual for a subcompact.
Indeed, the all-new Mazda2's is exceptionally well equipped in terms of cutting-edge technology. Its class-beating set of i-ACTIVSENSE active safety systems includes Blind Spot Monitoring (BSM). Available for the first time on a Mazda in Europe, BSM keeps track of the blind spots behind and on the sides of the vehicle, even when reversing. Plus, although kerb weights start at a mere 970kg, Mazda's newest model provides outstanding passive safety protection, too. This comes thanks among other things to the innovative architecture of its SKYACTIV-Body, which contains significantly greater quantities of lightweight high and ultra-high strength steels than the body of the current Mazda2.
Mazda is taking an unconventional approach with its European launch strategy this time around: Rather than concentrating on major international motor shows, the company is promoting its supermini at a number of regional events. For example, prior to the press launch at Mazda Space, the company's European event hub, the all-new Mazda2 will be on display at the International Film Festival of Rome from 16-25 October at the MAXXI Museum of 21st Century Art. It will also feature at three upcoming motor shows in Zurich (5-9 November), Vienna (14-18 November) and Brussels (15-25 January), before going on sale early next year.