Austin 7 National Rally invites the 'cousins' to attend in 2015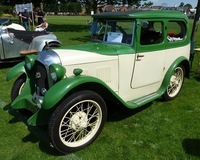 The Austin 7 motor car is one of the most enduring and endearing of all pre-war British cars. Between 1922 and 1939 some 290,000 were built and more than 8,000 survive worldwide today.
The largest rally for these vehicles takes place each year at Beaulieu in Hampshire (home of the National Motor Museum) and is organised by the 750 Motor Club. In 2015 the rally is being held on Sunday 5th July and the theme will be 'Austin 7s and their Cousins'. Austins form the core of the event, but pre-1974 vehicles of all makes are invited to attend and will have a designated parking area on the rally field.
The Austin 7, directly and indirectly in its day, had a great influence on other car manufacturers – spawning a wide range of vehicles based on Austin 7 design and components. These 'cousins' of the Austin 7 are being invited to attend the National Austin 7 Rally and to form a special display on the day. They will be joined by the many production Austin 7s that travel from all over the U.K. and Europe to attend the event.
Perhaps the most famous example of a company that owes its heritage to the Austin 7 is that of William Lyons' firm which, in 1927, produced their first car, the Austin Swallow – an elegantly designed sporting body on an Austin 7 chassis. The Swallow Sidecar and Coachbuilding Company became rather better known in later years – as Jaguar Cars.
In Germany the very first BMW car was based on an Austin 7 and was know as the 'Dixi'. In France the Austin 7 was manufactured as a 'Rosengart'. In America they were made by the Bantam Car Company. And in Japan Nissan used the Austin 7 design (though not under licence) to build some of their first cars. In Australia the Holden Motor Company – now part of General Motors – produced Austin 7 based vehicles.
Ian Nelson, who heads the Rally preparation team, is anticipating an excellent turnout. 'This year we had a very successful theme that highlighted commercial Austin 7s and we were able to put on a first-class display for people to enjoy. By showcasing these other Austin 7 related marques we expect to have an even larger attendance in 2015'.
The National Austin 7 Rally is an ideal day out for enthusiasts and for families alike. Beaulieu is home to a wide variety of attractions and the rally entry ticket also gives access to the historic Palace House and Gardens and The National Motor Museum.
The event is sponsored by Warranty Direct Limited and RH Specialist Insurance. Full details and entry forms can be found on the website: 750mc.co.uk/austin7. Gates will open at 10am.