Vauxhall unites with owners' clubs at NEC Classic Motor Show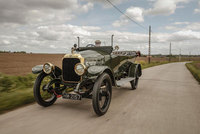 For the third year running, Vauxhall Motors will be supporting the Lancaster Insurance Classic Motor Show at Birmingham's NEC on 14-16 November, with a line-up of rare and unique vehicles from its Luton-based Heritage Centre.
But this year, Vauxhall's presence will be even more impactful, thanks to the support of four of the marque's leading clubs: the Droop Snoot Group, Autobahnstormers, the Vauxhall Cresta Club and the Chevette Owners' Group, each of which will be sharing stand space with the manufacturer.
'We wanted to bring marque clubs together in a stand that had a more cohesive feel for show-goers,' said Simon Hucknall, PR Manager for Vauxhall Product & Heritage, 'We also wanted to make a bigger statement about the importance of Vauxhall's heritage; we're Britain's oldest surviving car company with a continuous manufacturing history for 111 years, so our display vehicles needed to support this message.'
Star billing in a year commemorating the centenary of the start of World War One is the D-Type staff car. Vauxhall was one of only a few manufacturers to continue building vehicles during hostilities, and the D-Type saw active service throughout the war. One of only two surviving vehicles in the world, Vauxhall's Heritage Centre example was built in circa 1916 and has been restored to full working order, even making a trip to Ypres earlier this year for a magazine article.
As a striking counterpoint, nothing comes to close to the VX Lightning concept. Created to celebrate Vauxhall's 2003 centenary, the Lightning was a product of the now defunct GM Advanced Design studio in Coventry. Rarely seen outside of Vauxhall's 70-strong heritage collection, the Lightning is fitted with a supercharged 2.0-litre engine producing 240bhp.
Another rarity – though one that did make production – is Vauxhall's Chevette 2300HS. Launched in 1976 to satisfy homologation regulations for the DTV (Dealer Team Vauxhall) rally cars, the model represented a conscious effort by Vauxhall to inject drama and excitement into its range. In rally form, it also brought Pentti Airikkala three major wins in his first season.
Staying with the sporting theme, Vauxhall's VXR220 also makes an appearance on the stand. This is the very car – a decade ago – that wore the first 'VXR' badge, and kick-started an enthusiasts' brand that has spawned some of the fastest, best-handling and most attainable performance cars on the market. 'Number One' weighs just 800kgs and is powered by a 2.0-litre turbocharged engine with 220bhp and a 0-60mph time of just 4.2 seconds.
Just about the only figure the next stand-car has in common with the VXR220 is its weight. The Viva HA makes a welcome reappearance at the NEC, marking 50 years since compact car production started at Vauxhall's Ellesmere Port plant, which next year will become the lead production facility for the all-new Astra. Vauxhall's first compact car, the Viva (a name which will be re-born next year for a new model) was simple, beautifully packaged and immensely popular, with over 300,000 being sold between 1963 and 1966.
Little more than 10 years after the HA ceased production, perhaps nothing showed Vauxhall's up-market aspirations more than the Royale Coupe which graces the stand. Costing almost 20 times the price of the Viva at its launch, the Royale took Vauxhall into direct competition with the Rover 3500 SD1 and Ford's Granada Ghia. All-round independent suspension, a 2.8-litre straight-six 'cam-in-head' engine, optional air conditioning were all firsts for Vauxhall. It was also seen as a genuine ground-breaker in its class by the British motoring press.
And ground-breaking is something at which Vauxhall has excelled right from the start. Fresh from its attempt at the 2014 London to Brighton run, the 110-year old '6HP' showed how prescient was Vauxhall's approach to design and engineering. The oldest car on the stand has a body and chassis amalgamated into a single structure made from a wood and steel composite. Driven by a single-cylinder engine, with a two-bearing crank and trembler coil ignition, the 6HP could achieve a top speed of 25mph – quite something in its day.
Vauxhall and its partner clubs look forward to meeting show-goers on the stand, which is in Hall 7, Stand 420. More information about the Classic Motor Show can be found at necclassicmotorshow.com.